Bridgette Mongeon in the News
Bridgette Mongeon has a great deal of passion for many different things. Topics of interview range from 3D technology, fine art, literature, STEAM and STEM education and Bridgette's intimate spiritual side. Media calls her "a natural, a great interview," and she has often heard, "the camera loves you." She has, in the past, been the interviewer instead of the interviewee and media comes naturally for her. Below is some of the news on this artist and writer. If you would like to write an article, or interview the artist please feel free to fill in the contact form below. You can find Bridgette Mongeon's online media kit here.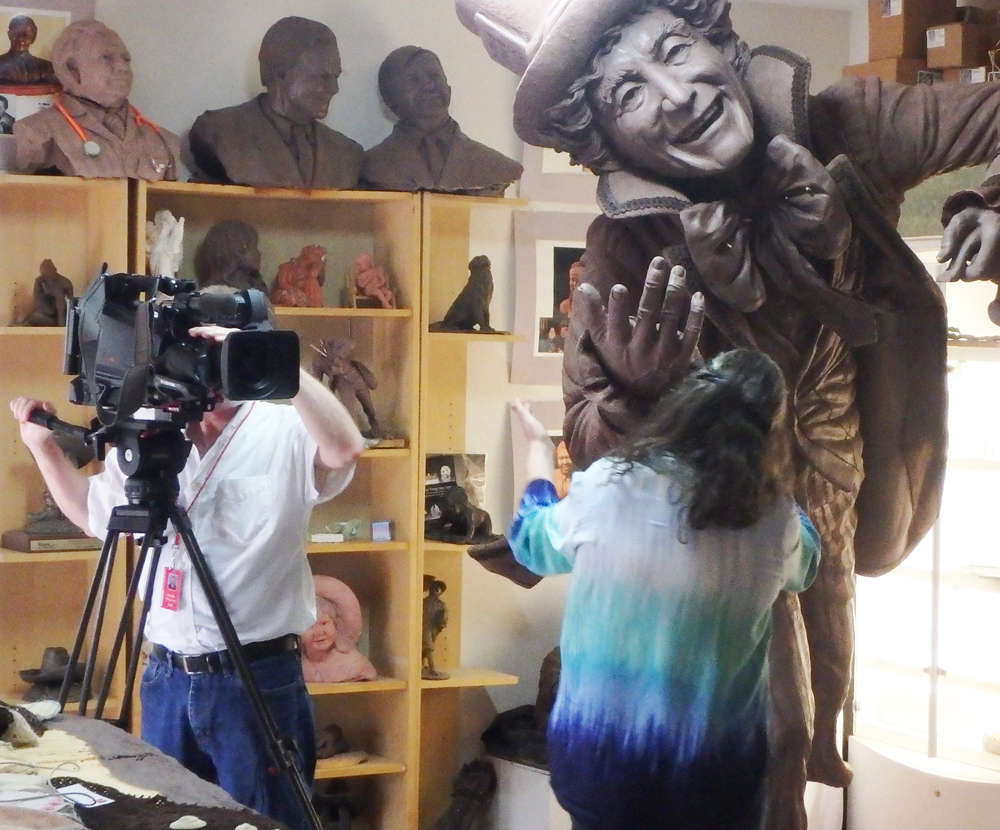 "...An artist who has found a happy compromise between business and pleasure. Here is a look at proclaimed sculptor and entrepreneur Bridgette Mongeon. 
-PBS Houston
"This is absolutely breathtaking."
-Maggie Flecknoe CW39
"This thing is absolutely amazing."
-Ernie Manouse PBS Houston
Bridgette Mongeon will leave behind a legacy of comfort.
Her sculptures help parents through their darkest days.
And remind them of precious beautiful moments
she is honored to preserve.
-Texas Country Reporter
Neil Armstrong Statue For Houston, Russia KHOU 11, April 12, 2019 Sculpting the Deceased - CBS KHOU Houston, April 12, 2019
Russian & American Artists Unite For Inspired Art Project July 18 CW 39 July 18, 2019
Arts Insight Move One Place On in Evelyn's Park. June 7, 2018
'Alice in Wonderland' Tea Party Sculpture Installed At Evelyn's Park in Bellaire NBC KPRC Houston April 10, 2018
Sculpting a Wonderland Houston PBS Arts Insight, April 22, 2016
Houston City Parks "Hidden Gems"" Inside some Must-See Green Spaces ABC Houston, February 15 2016
Houston Artist Creates a Wonderland of Sculptures. CW 30 February 2, 2016
Alice In Wonderland Tea Party Life-Size Sculpture in Evelyn's Park Conservancy CW39 April 14, 2018
Child Memorial Sculptures  Texas Country Reporter October 2014

Live with Chuck and Jenni

- Family net TV, November, 2001.

Sculptor Captures Children

- A. M. Buffalo (ABC Affiliate, New York) September 8, 1999.

Creative Possibilities 

- Celebrate Houston, September, 10, 1999.

Garden Art Follow Up

- Hats of 2 Houston, September 1997.
Garden Art - Hats of 2 Houston, September 1996.

Making a Living While Living a Dream

- Houston Public Broadcasting. This segment won Best Artist Documentary.
Bridgette Mongeon's 3D Printed and Cast Alice in Wonderland Sculpture Gets 3D Scanned. 3D Printing Media Network August 22, 2018
Meet Bridgette Mongeon Voyage Houston November 1, 2017
3D Technology Is a Trip Down the Rabbit Hole for Artist Bridgette Mongeon 3D Printing Industry July 8, 2017
Taking Time To Read The Buzz February 28, 2017Magazine
Bridgette Mongeon
Women in 3D Printing. February 3, 2016
Bridgette Mongeonreprinted in WI3DP February 8, 2016
Selling Art the the Funerary Market Arts Business Institute  April 9, 2012

Beauty for Ashes: The Inspired Art of Bridgette Mongeon 

- A Time To Love Magazine March 2009

24/7 with Bridgette Mongeon

 - Skirt Magazine, March 2008


Newspaper Headlines Carved in Bronze

- Arkansas Publisher Weekly, March 22, 2007

Bringing to Life the Spirit of The Deceased

 - A Sculptor's Journey, A Lecture by Bridgette Mongeon.
News Perspective, Montpelier, Vermont, October 2006.

Hathaway Sculpture Fund

- The World, Vermont Today, November 2006.

Austin's Newsboy Statue 

– TexasEscapes.com, John Troessner, 2005.

Artist Searches for Models

- GiftWare News, August 2000.

Call for Children

- GiftWare News, July 2000.

Africa Trip 

- MarketPlace, July 2000.

Africa Trip

- Inspirational Gifts, July 2000.
Africa Trip - Christian Retailing, July 2000.

Artist Comes to Africa to Help Missions

- Finesse - South Africa, March 2000.

Se Buscan Ninos Latinos Para Esculturas Translation: Search for Latin Children for Sculptures


Vida Cristiana September 1999.

Artist Selects Winning Retail Entries

- Inspirational Giftware, July 1999, Rhonda Scholar.
Artist Searches for Children to Sculpt - Inspirational Giftware, March 1999, Rhonda Scholar.
Neighbors: Mongeon An Out-Of-This-World sculptor- The Leader, April 15, 2020
Houston Music Icon Norma Zenteno Honored With Sculpture- Preview Houston Chronicle February 22, 2020 
First Latina Sculpture in Houston set for Unveiling TBH Center- Houston Chronicle February 21, 2020
North Tonawanda Native Creates Sculpture in Honor of Penny Marshal. Kentonbee  Sept 17, 2019
Moon Landing Come Full Circle For Local Artist The Leader July 17, 2019

Cooped Up: Area Residents Bring ing Farm Life to Big City

- The Leader, April 17, 2019
Father's Day: 6 Fun Activities in Houston Visit Houston. June 2018
Tea time in the Park: Alice in Wonderland at Evelyn's Park. The Buzz Magazines. April 16, 2018
Tea With Alice In Wonderland Dunna Group News June, 28, 2018
Park Debuts Sculpture, Celebrates First Year. Houston Chronicle April 17, 2018
Bridgette Mongeon's Sculpture In Houston Is Up! The Lewis Carroll Society of North America News.  April 10, 2018
An Interactive Alice in Wonderland Sculpture Arrives at Evelyn's Park - Houstonia Magazine 6, 2018
Alumna Bridgette Mongeon Aids Harvey Victims Union Institute & University September 27, 2017
Evelyn's Park Opens in Bellaire with Festivities and Fanfare- Houston Chronicle, April 23, 2017
Evelyn's Park In Bellaire Will Be a Place to Celebrate Nature. Houston Chronicle April 20. 2017
CHGT Consults on Authoritative 3D Printing Book. Business Wire October 22, 2015
Digital Sculptor Bridgette Mongeon to Visit Penn State Behrend. PennState News Sept 23, 2015
The Boston Tea party or the Mad Hatter Tea Party Glasstire Texas Visual Art  July3, 2015
New Sculpture For Evelyn's Park Will Bring "Alice in Wonderland' to Life. Houston Chronicle July 24, 2015
Down the Rabbit Hole: Evelyn's Park Goes Mad For Lewis Carroll's 'Alice in Wonderland.'  Culture Map Houston July 27, 2015
Tabor City "Billy" Honors Paper's Crusading Publisher - The North Carolina Press, August 2007
Leader- Area Sculptor Goes Down The Rabbit Hole. Houston Leader July 9, 2015

Historical Headlines Being Carved in Bronze

- Southern Newspaper Publishers Association, March 22, 2007
A

 Sculptor's Journey: Searching for Dick Hathaway and Bringing to Life the Spirit of the Deceased


Time Argus, Montpelier, Vermont, October 27, 2006

Sculpture of Dick Hathaway Donated to T.W. Woods Gallery 

- Vermont College Newsletter Fall/Winter, 2006
A Fitting Tribute Union Institute and University Alumni Newsletter, 2006

Extra, Extra, Read All About It

- by Bridgette Mongeon Houston Tribune, October 2004.
EXTRA! EXTRA! TPA revives newsboy in commemorative statue Messenger Online, September 2004.
Newsboy Sculpture Celebrates our History Wanda Garner Cash—Random Thoughts, September 2004.

Call for Children

- Chronicle This Week, May/June 2000.
Call for Children - 1960 Sun, May/June 2000.

Sculptor Returns Looking for Subjects

- Kenmore Record, August 30, 1999, New York, Steve Trask.

Sculptor Returns Looking for Subjects

- Tonawanda News, August 30, 1999, New York, Steve Trask.
Sculpture -Artist Finds Peace in Pieces - Amherst Bee, New York, September 9, 1999, Amy Masterson.

Sculptor Breathes Life into Art

- Houston Chronicle, Texas, January 1, 1997, Nancy A. Dean.

Sculptress Conveys Love of Children

- Southwest Sun, August 15, 1996, Lance Laskosky

Sculpting the Famous

- Chattanooga News Free Press, Tennessee- August 26, 1990, Ann Nichols.

Local Artist Captures Life in its Fullest

 – Houston Tribune, July 1989, Dan Nester.
Evelyn's Park in Bellaire, TX: Alice in Wonderland Tea Party Sculpture-Wander Wisdom, April 2020
Making the Mad Hatter's Chair Carvewright blog, April 27, 2018
3D Technology Is a Trip Down the Rabbit Hole for Artist Bridgette Mongeon 3D Printing Industry July 8, 2017
New Alice In Wonderland Statue To Be Installed In Texas Park in 2016 Alice is Everywhere July 7, 2015 
Don't Wait To Grow Up, Be A Tech Girl Now.

3ders.org Mar 1, 2014

3D Camp Houston 2012 Highlights Michelle Davis October 1, 2012
Bridgette Mongeon : Digital Sculptor Scat N Style  May 16, 2012
Bridgette Mongeon Shares Tips to Work At Home Moms The CWAHM Network. May 5, 2009
Bridgette Mongeon's Studio- Real Life Real Moments. January 9, 2009
Marketing Your Passion and Your Business With Audio and Video- with Bridgette Mongeon Marketing with Audio and Video February 16, 2009
Business Success Through Your Creativity- An Interview with Bridgette Mongeon Solo Talk April 10, 2009

Newsboy in Bronze

 -Nevada Press Blog, April 20 2007
Help Bring Dick Back to the Wood - TW Woods Gallery

S

culpture of Dick Hathaway Donated to the TW Woods

 Vermont College Undergraduate Program Newsletter
Fall/Winter 2006
A Fitting Tribute Union Institute and University Alumni Association
Podcasts, Radio and Online Interviews with Bridgette Mongeon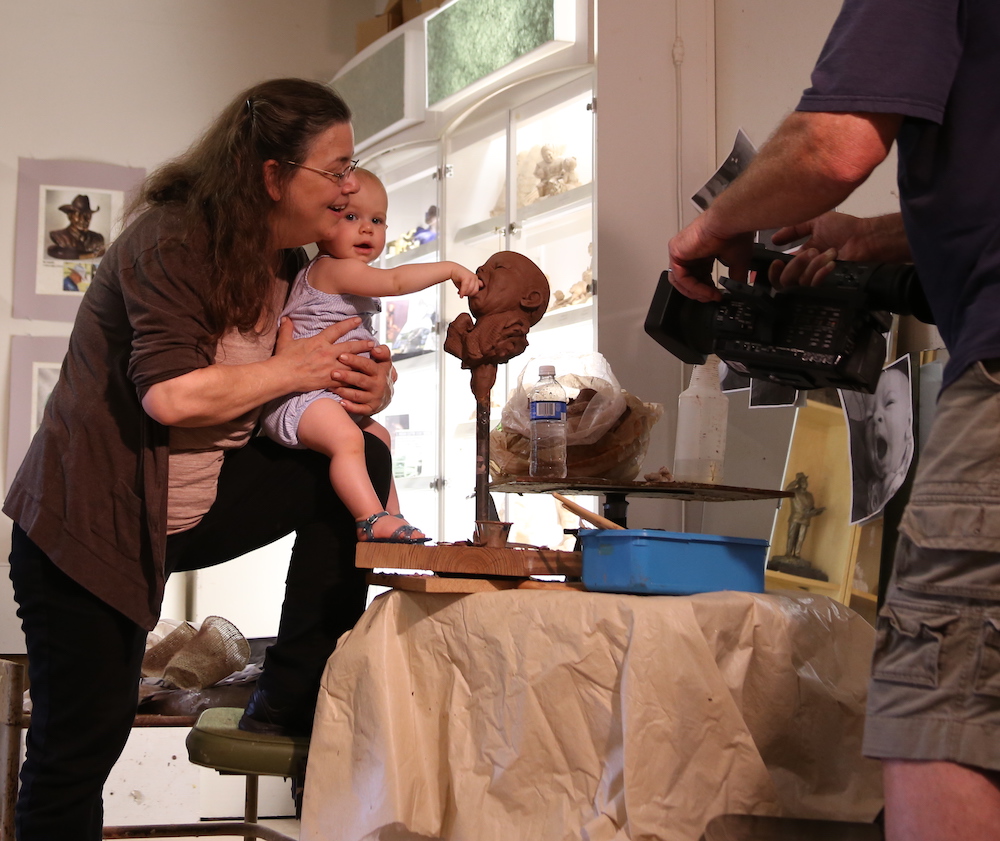 Contact Bridgette for a News Story