As mentioned in the "About" section, Bridgette is very divers in her art, speaking and communication. This diversity translates to her writings. A perpetual documenter, she loves experiential writing. Bridgette focuses on working through difficulties, spending time researching, and putting processes into practice life and art, and writing about these things inspires her.
While there are many of her published works listed on the "Published Works" page, the list is not complete. Finding opportunities to write about her passions has led to multiple publication of both articles and books. With some luck and the right agent, she hopes to expand that list.
Publicity and marketing come naturally to a few. You rarely have the package of creativeness, business savvy, and marketing manager rolled into one person, but Bridgette has learned to intertwine all three in her process. Publicity is one are Bridgette does well. She enjoys the challenge of finding places to promote her work. For more information visit the "In The News" section of this website.
"In our pilgrimage on this earth, we sometimes fail to see
all who the Lord touches through us, in simple words and deeds."

Bridgette Mongeon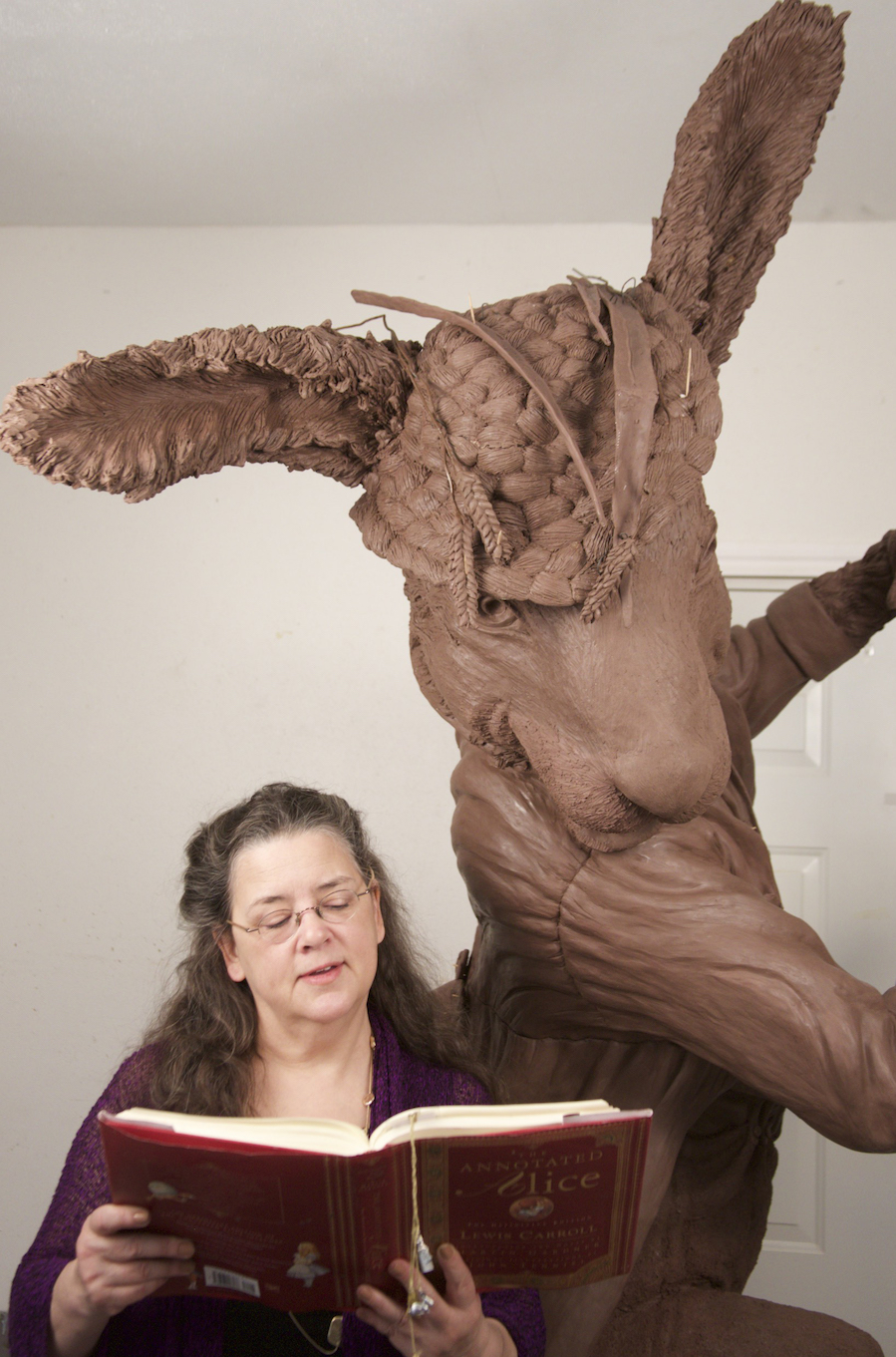 Seeking agents and publishers for the following books
Nonfiction Books
The Zen of Business and Carving a Creative Life
Is it possible to have zen and peace in business and life while also pursuing achievement? How does one find happiness and contentment in their business life? Sculptor and author Bridgette Mongeon shares her story as she takes the reader on her incredible adventure of life as an artist and writer. She shares tools that she learned that anyone can use. These tools helped her get past the series of unfortunate events that cause any business to falter. She conquered an insolvent vendor, major Houston hurricane, health issues, and even a plague. In the end, she learned how to overcome, strengthen her business, and savor it all.
Bringing to Life the Spirit of the Deceased: A Sculptor's Journey
As a sculptor who has specialized in posthumous commissions, Bridgette Mongeon has helped many families work through grief and celebrate life. As one person said, "You develop a relationship with the deceased."
This book walks through four posthumous commissions and the life of an artist who tries to make sense of some of her "special abilities" that have nothing to do with art. Not satisfied with accepting what others might refer to as "paranormal," Bridgette finds the science behind the unusual occurrences.
Prayers of an Atheist's Wife
Is it possible for an Atheist and a Christian to live together in harmony? How can we love and support those in our lives who have different beliefs from our own? Prayers of an Atheist's Wife is the author's personal story of understanding, change, marriage, and love.
"My idols are Dr. Suess, Jim Henson, and Shel Silverstein. I guess you could say I have a Silversuesshensonstein type of approach to my children's writings. Oh, and with a little bit of Mr. Rogers."
Bridgette
Children's Books
A publisher referred to Bridgette's style of writing for children as similar to Dr. Suess. She has longed to have her children's books published, but always felt that she needs to illustrate her books herself because she is an artist. She has let go of that misconception, for she knows there is power behind the words.
Mortimer McCallister Manipulative Man
Mortimer McCallister is a fun story that helps children learn about their subconscious influences. It gives the reader tools to take control of the emotions and feelings that they may not understand or be able to handle.
The Dr. Suess book, "Oh, the Places You'll Go," influenced Bridgette in this writing. Her daughter approached graduation from a Christian college with angst. She was uncertain how she would know God's will for her life. From this experience, God's Will and God's Way poured from her soul. The book is a fun look at finding God's will in your life.
Mona Whiner and other poems
Many of Bridgette's children's poems can stand on their own as individual books or as a collection.
With many of the poems, there is often a twist of either spiritual influence and/or positive mental health
.
Bridgette has long been an advocate of learning, accepting, and understanding individual learning styles
. The Plutz of Kanatazoo can help children learn that they may have a different learning style.
Through the story they discover that working within your own learning style can enhance both your life and your education
.