The National Science Foundation coined the term STEM in 2001. It is an educational initiative that encourages and focuses on the disciplines of Science, Technology, Engineering, and Math. Bridgette Mongeon and others add the A to make it STEAM. STEAM is an interdisciplinary education that uses art to inform the disciplines and present ideas. Bridgette has long been a proponent of STEAM ever since she first heard about it when she was co-chair and presenter of 3DCAMP Houston 2012/2013. 3DCAMP was an event, based around 3D technology, where artists, vendors and lectures, gathered to share information and introduce the newest technology and applications to up and coming students and professionals. 3DCAMP was a day of art, lectures, and vendors all surround 3D technology.
Bridgette dabbled in 3D technology herself. Her main exploration was in getting physical work inside the computer and then, after working on it inside the computer, getting it back out again into a physical form. In 2007 she wrote two articles on the topic for Sculpture Review, a peer-review journal in fine art. The research doe for these articles fed her passion for discovery and fueled her need for further exploration in 3D technology as it pertains to fine art and it continues to grow on the subject.
During this time, a hand injury kept her from sculpting and forced her to look at other ways to create her art. Like many others working in the arts, her body was taking a toll by doing the very thing she loved to do. For her and others, exploring and accepting digital technologies was the answer; it also gave her a niche in her industry.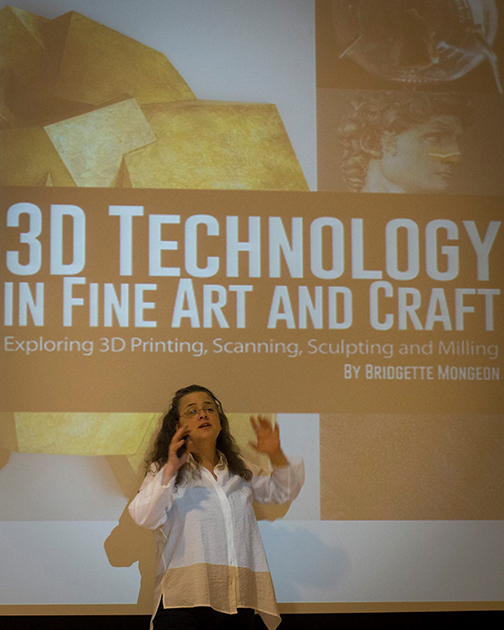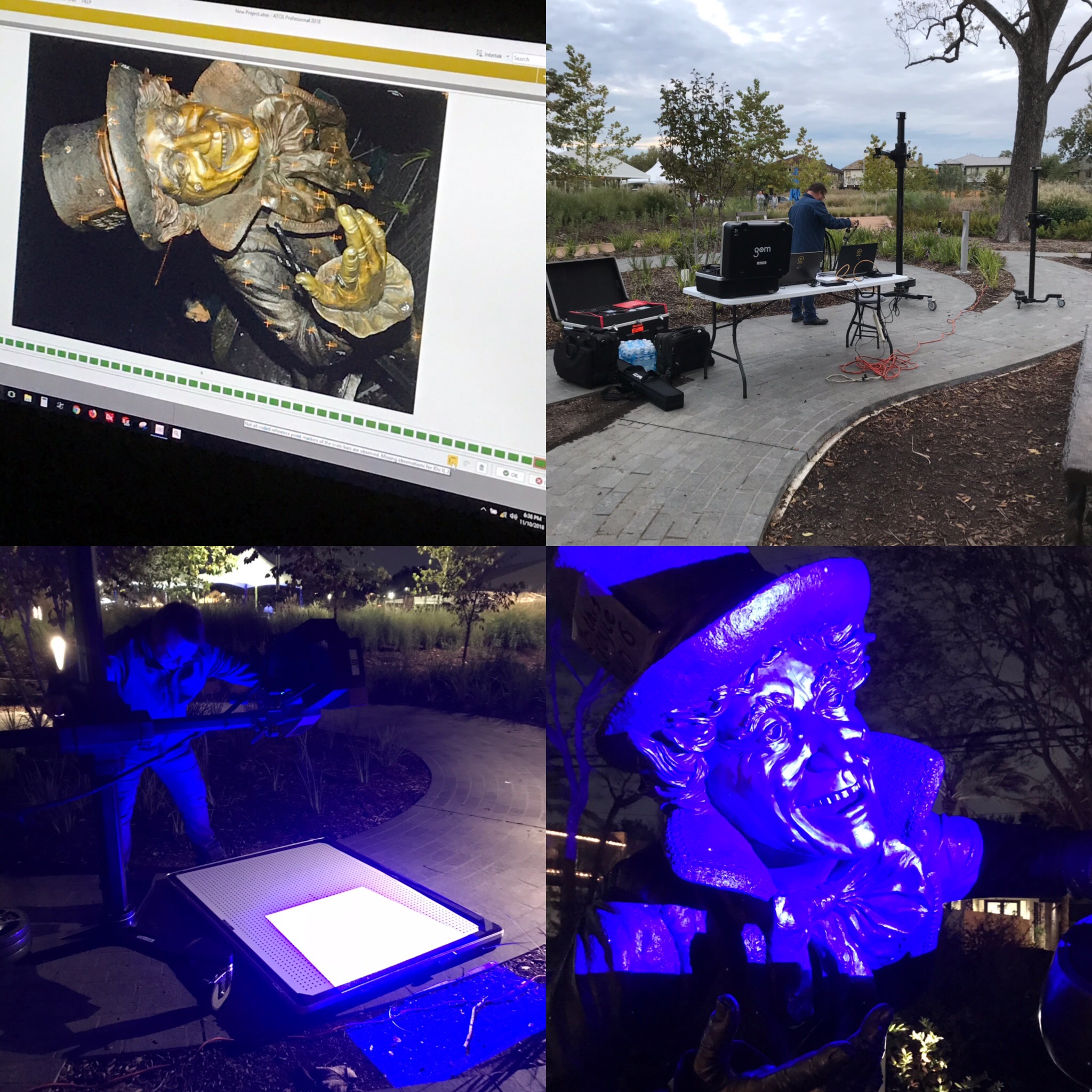 Her graduate degree is from Goddard college. A school that encourage new connections and interdisciplinary education. While there she developed a graduate program with a focus on 3D Technology in Fine Art. The first of its kind. Her research into marrying 3D technology with fine art, coupled with her years of experience doing the physical action of sculpting, formed her thesis. The thesis turned into a book 3D Technology in Fine Art and Craft: Exploring 3D Printing, Scanning, Sculpting, and Milling. She had worked on the book for years, but had a hard time finding a publisher for it. Fine art publishers balked at publishing it because of the technology and technology publishers balked because of the fine art. Thanks go to Focal Press, a division of Taylor and Francis Publishing for having the forethought to see the need for a book like this that bridges the gap between technology and fine art. Today the book is used in academics, cited through other papers, used in maker spaces, and collected by the Museum of Fine Arts library in Houston, Texas, as well as the Albright Knox Gallery in Buffalo, New York. The writing of it also brought the prestige of receiving the distinction as one of the 30 most influential women in 3D printing.
Her Alice in Wonderland project pushed the technology to the limits as she used it as a way to explore, expand and share STEAM. The love for the works of Lewis Carroll and his stories of Alice and her friends peeked many people's interest. She has other projects in the works for which she hopes to find collaborators. One is taking the scan of Alice in Wonderland in Evelyn's Park and creating an online educational resource for students. She is writing a new book on t 3D Technology in Fine art, using the Alice in Wonderland sculpture as its central theme.
When she speaks at universities on the subject of STEAM, it is a big bang for the university's buck. Students from several different focuses including  engineering, computer science, architecture, technology, and art attend. She has presented at 3D Printing World Expo, been a keynote speaker on STEAM at The Texas Art Educators conference, and also at Expanding Your Horizons in Math and Science.
Technology is ever changing. Bridgette will continue to use it in her studio, to push the boundaries of art and science. She will also help others to understand it and use it in their artwork as well as continue to present it in educational capacities.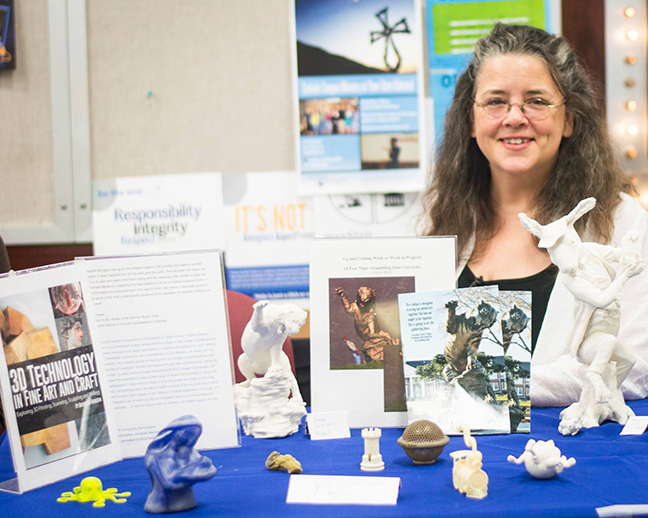 Bridgette Mongeon was the keynote speaker at the Texas Art Educators conference in 2017.  This YouTube was put together by the artist to demonstrate her work and passion.
Bridette's Passion for Women in STEAM/STEM Education