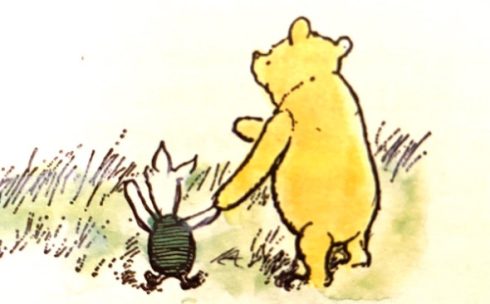 Many know me by the Bronze Mad Hatter Tea Party Sculpture in Evelyn's Park titled Move One Place On. Evelyn's Park was created for a loving mom by her two sons. The sculpture is there in memory of her. So when you go to Evelyn's Park and enjoy looking for the 150 hidden things I put in the sculpture in honor of the 150th anniversary or chat with the characters, know it is Evelyn you must thank.
My Favorite Winnie The Pooh

I have always been a Winnie The Pooh fan. So, I'm looking for a place and a patron for four sculpture scenes of this beloved story. These scenes will be the destination site for many visiting Houston.
The beloved Winnie The Pooh has entered the public domain as of 2022.
Sculptor Bridgette Mongeon hopes to create another beloved bronze scene for the Houston area, featuring Pooh and his friends.
Mongeon seeks a patron to assist in creating the scenes along with wooded property to house these four scenes from Pooh's adventures and the beloved story by A. A. Milne.
Inspiration will be Shepard's original illustrations recreated with a touch of Mongeon's interpretation in bronze, as she did with the inspiration of Tenniel's illustrations for Alice in Wonderland.
The installation of each of the pieces will stagger over 24-48 months, building anticipation. We will install these together in one space, along a trail, or an area—a Hundred Acre Wood type setting, where families must walk to find each scene.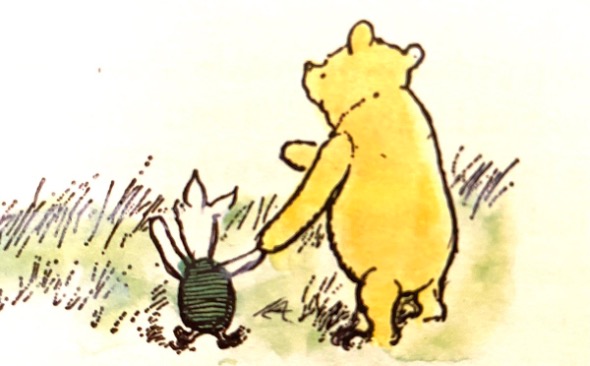 Scene 1
Pooh and Piglet at His Thoughtful Spot
This is one of the smallest of the scenes. Though Shepard does not portray the "thoughtful spot" this way, Mongeon sees a log in a scene that overlooks a special part of a park. Pooh and Piglet sit on the log, leaving room for others to pose for photos.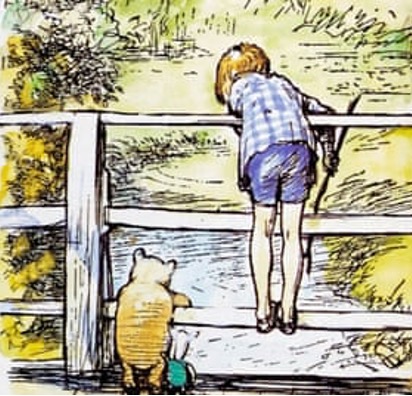 Scene 2
Poohsticks
Poohsticks is played by many. In this scene, Pooh and his friends are on a bridge throwing in sticks. Toss them in on one side and run to the other to see whose stick comes out first. Others are encouraged to toss in the sticks and watch who wins. People hold Poohstick championships around the world.
( This installation is a bit more tricky as it requires plumbing for water and a place where the owner does not mind children throwing things in the water to see who wins.)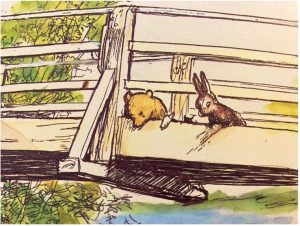 Scene 3
Rabbits house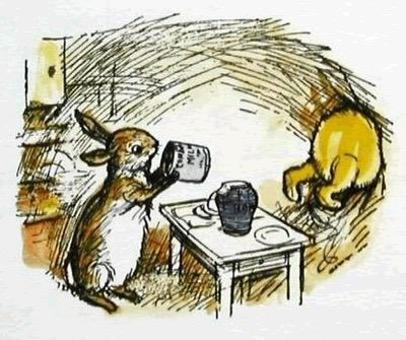 This is the largest of the scenes, with an entire bronze playground consisting of Pooh Stuck in Rabbit's door and Christopher Robin trying to pull him out. Imagine the selfies of others visiting the park, grabbing onto Christopher Robin and trying to pull Pooh out as well.
Visitors can go around the burrow and through the rabbit's back door to find his kitchen and Pooh's legs dangling from the door. Rabbit is in a terrible state. The visiting children can play house, sit at the rabbit's table, or even push on Pooh from the inside. This bonze will be a favorite stop for many.
Scene 4
Eeyore's Birthday Party
This is a table scene a birthday party for Eeyore, with all the characters and extra space for little guests. Tiger, going into the public domain in 2023, can be added to this scene.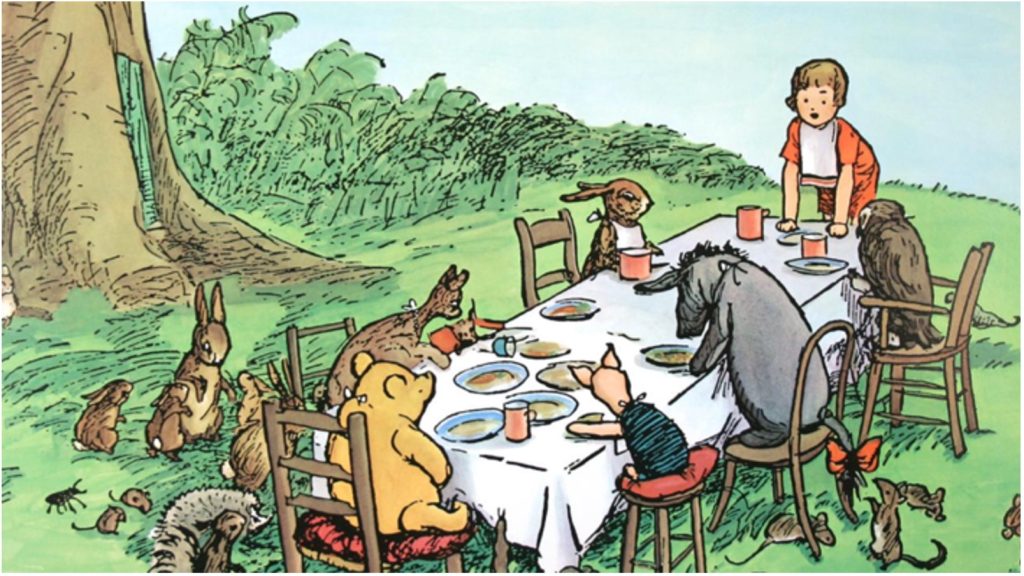 How to Purchase These Scenes
I am looking for a buyer for a public location preferably in Texas, that would like to commit to purchasing each of these scenes. In whatever order is best suited for the property. Contact me if you are interested in providing the best selfie spot and a way to interact with your childhood, in memory of a loved one, or just because.