Are We Creating From Life, or From a Desire Of Our Clients?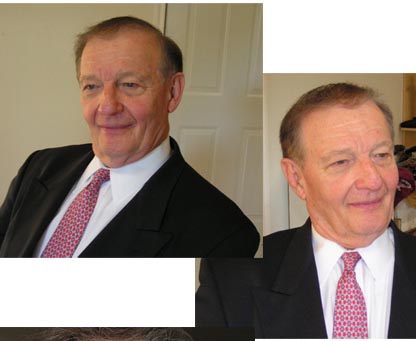 Sometimes working on commissions and talking to clients you have to be very sensitive to what you think they are trying to say. Sometimes the need is deeper than a voice. That was the case with this commission. The son asked for a bronze of his father. I loved the sensitivity the son explored in wanting, almost having to have this done of his father. I think I can identify with the son. He lives in one state and his father in another. That is the case with myself. I live in Texas mom and dad live in NY. I too desire to have something artistic of them. I plan on casting their hands. There is just something about hands. I seem to remember a line in the movie Beaches where the woman forgets what her mothers hands look like and does not want her daughter to forget hers. I guess I'll have to watch the movie again, it is has been years. I do remember crying during that scene. Being an artist, hands are not the only artistic expression I felt I had to have of a loved one. Many, many years ago I took reference photographs of my grandfather, he is long since been deceased. The pictures are of him reading the paper, legs crossed in front of him and his hand nestled under his chin, fingers outspread, and pinky playfully brushing his lips. It was grandpas thoughtful look and I wanted to have it forever. I still have not created a piece in the likeness of this picture. Their have been many emotional times of feeling the compulsion to have this person, to hold this person in my memory and in art for everyone to see.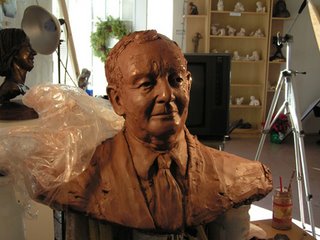 The father came for a sitting and I began the sculpture. As I came nearer to completion I posted it on the blog. The son contacted me and said that it was not his father, not the way he remembers him in his mind. AHHHHH that is entirely different than creating from a sitting from life. It also can be difficult to find the hidden need of the client. Now I had something to work with. Probing some more the son sent me pictures that resembled the dad he wanted to capture. Which really turned out to be quite younger. Here is the progress on deaging the dad and working not with realism but with a clients desire and memory, a need to hold something dearer than just an image. First picture is the older sculpture and reference before finishing. the bottom picture is the young sculpture and reference.


The work in progress