Creating An Author's Page At Amazon For The Mudbox Book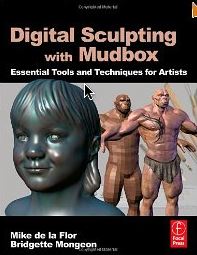 For those of you who don't know, I coauthored a book with my husband called Digital Sculpting in Mudbox: Essential Tools and Techniques. Most software books can become dated, but this book talks about things that others do not. Let me tell you about the two chapters that I am proud of. I should be proud, I wrote them and labored over them. One chapter brings a person through the entire process of sculpting a portrait digitally. Yes, I have taken my traditional process and expressed it digitally. So this book will help with that. You can use it if you are using Mudbox or the competition Zbrush. It will also help if you are a traditional sculptor. The other chapter talks about digital printing, milling and scanning. This is huge and I would love to do an entire book on this subject, just in case there should be a publisher that is interested. For those of you who don't know, you can now print things in 3d. Yes, you can create objects in the computer and print them. Kind of like the Star trek replicator. The difficulty is, that not many artist know the processes that are available for this sort of thing. That is what this chapter is about. Breaking it down into bite sized pieces and also offering the reader a list of resources. In my opinion, this information is worth purchasing the book. You just can't find it compiled anywhere else.
If you want to see my authors page just click on this Amazon link to the book and then on my name.
We have also put together a website and forums for this book. It is located at digitalsculpting.net Be sure to also check out the podcasts on art and technology at the website.