I Was a Non Traditional Student! Graduating With A Masters At My Age?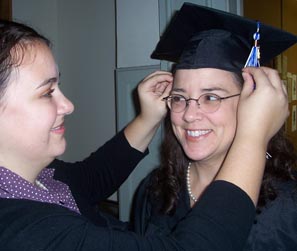 I have been a nontraditional student for quite some time now. I went to Vermont College to finish an undergraduate degree when my own child was going to college. I loved their form of progressive education. Then I went to Goddard College for my a Masters of Fine Arts in Interdisciplinary Arts degree. I'm graduating on Sunday!
This was not something I had to do, but something I wanted to do. It was a very fullfilling and wonderful journey.
Both of these schools are very different then your traditional education. Designing your own study was fascinating and a perfect fit for me. I am thrilled to graduate with my Masters of Fine Arts with both a focus in sculpture, especially as it pertains to digital technology in the studio, and writing.
On superbowl Sunday I will be making a huge touchdown, but it won't be in sports.
For those interested, I was interviewed on our podcast by my daughter concerning this entire process. Here is a link for the podcast. Just click and the podcast will come up in your browser.
For those of you considering such a challenge, I have documented my entire process from undergraduate school to graduate school on my Perpetual Learner blog. Read my process, struggles, concerns and achievements. It seems strange to think, that way back when i was applying I was first figuring out how to find out what shots I had in high school.