In Loving Memory of Kittiana 1992-2008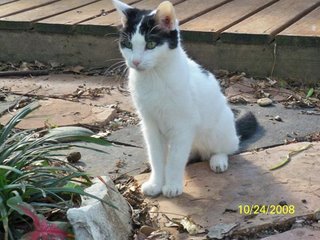 Kittiana came into our lives at a time of fracture instability and uncertainty. She was from "Santa" and only because a friend, friend had kittens around Christmas time and I was just coming off a divorce and hard pressed to find Santa gifts. She arrived in the wee hours of my daughter's 7th Christmas and took quickly to the animals that always sit around the base of the tree each Christmas. When I went to bed that evening she meowed so loudly was unsure of what to do. I found a stuffed cat and encourage her to lie next to it. It appeased her. In the morning we jumped up from bed and entered the living room. Christina bounding and I wondering where on earth this present was. Christina was distracted by some of the minor things under the tree until she noticed cat litter. At least Santa came prepared. The surprise on her face was priceless. I pretended to complain stating, "Santa better not have left a cat in this house." T that moment the cat meowed from beneath the cabinet and Christina went quickly to retrieve her.
The bond was instant, and offered Chris a distraction from a dad who was not there. Kittiana took to sleeping on Christina's head, and had a horrible playful, but painful habit of attaching her feat at night. Though Kittiana always looked small and kitty like, for many years visitors called her the unfriendly cat. She wanted no one except for Christiana.
Children grow, and you don't realize that their pets are often left behind. Grade school came with slumber parties and slip and slides, junior high with guys and giggles, and high school with dreams and determination. When Christina went away to college Kittiana's personality changed she mellowed. Perhaps we bonded because of our loss of the girl, the desperate need to feel that girlish love. Whatever it was, her allegiance switched. Soon Kittiana was banned from Chris bedroom. Whether it was because of her misunderstanding or her love of the girl, she would still try to "claim her territory," even on visits and the summers when Christian came home.
Chris graduated college a year ago spring. She decided to continue to live in the Tulsa away from her Texas home. "I can barely be responsible for me, Please don't make me responsible for my cat." I understood the feelings. They were feelings I too had so many years ago alone with a mortgage, two dogs, a cat and a precious little girl.
My life has changed over the years. There is stability in a relationship, and a career. Kittiana and I developed a regular ritual. Evening snack, a glass of wine and sitting on the chair. She would snuggle, and do you know that the mean cat would let me hold her like a baby! I loved it and I think we both got what we needed. A year ago she was diagnosed with thyroid problems. Slowly her health declined and two weeks ago I made the decision and the appointment to put her down. I have had many pets, this one was hard to let go of, she represented so much more than a cat, and it was the last of my daughter's childhood. Over the last two weeks I took numerous pictures, her 4 lb frame so frail. Christina has had ample time to work through her issues; it was mom that had to come to terms. Last night I snipped a bit of her hair, some black, some white and taped it together. I made two of these little locks. It is a tradition that I started from the first deceased pet. They all sit in a jewelry box in my dresser drawer, or course I'll send one to Chris. The last week kittiana became fussy about food, and I felt it was something that she did to let me know, "hey it is really time." She could afford to get no thinner. Today at 11:00 I held her as the doctor put her to sleep. Her ashes will arrive at another time. I feel good about my decision, and can easily go throughout the day without crying until I think of the two thoughts together, the girl and the kitty. Then I'm a mess. I'm very grateful we have had the bond. I guess it is o.k. to say, I miss them both and am grateful that all of our lives have touched.
My little boo boo kitty!