Newsboy- Working Through The Holiday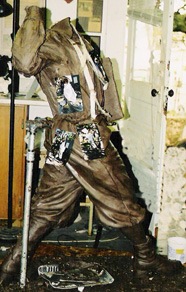 December 22-27, 2004
Sculptor Bridgette Mongeon has documented the entire process of creating a figurine of a newsboy and a life-size bronze sculpture. Watch the artist work through these posts. In this blog, she has also included information for students and teachers. In the previous post, we got to see the morphing of a sculpture.
If you are lost and want to go back to the chronological running list of posts, follow this link.
My, it was cold in the studio this week! We were thankful for the torches, but sitting on the ground and working on the shoes was something that neither my assistant nor myself wanted to do.
Last week I had wooden skewers in the place of the buttons. This helped me to be able to get my proportions correct and also greatly affected the folds. This week I have replaced them with buttons. Now I can really see what needs to be defined.

I also added a "fake" newspaper in Dusty's left arm. It helped me to be able to see the arm and upper torso better. I also wrapped some Saran wrap around the suspenders and put them on Dusty. The wrap was to keep the suspenders clean. I put them in place with buttons and pins. Previous photos show strips of cloth for suspenders. I know the suspenders have not changed in size since Dusty wore them. Using them helps with proportions. Having them in place plays a great role in the folds of the shirt and pants.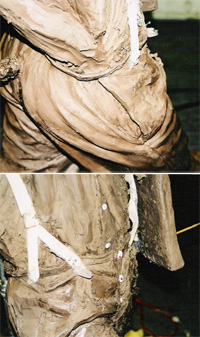 Sometimes I will pin the photos directly to the sculpture. When I'm working I'm usually holding several of my favorite tools and a hand full of photos and then there is the torch. I wish I had an extra appendage to hold some things.
Some of my favorite tools are dental tools. They are very sturdy and can handle the stiff clay. They also can be heated up. As I understand it, dentists will often toss their old dental tools. If you are a dentist please don't toss them, send them to me. My favorite two tools are the "hockey stick" looking tool and the one that looks like an ice chopper. Chris and I often fight over the tools.
Artists do get used to the feel of a tool, and you get so used to how it feels that it works like a part of your own hand. Change that tool and it throws your production off.

The blog will get back to student and teacher posts, but for now, let's move on to see some Huge Strides in the Life-Size Sculpture.