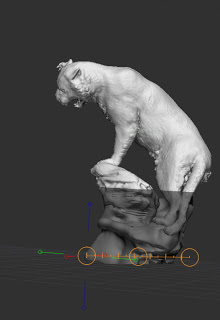 Now that we have the green light on the tiger I am spending a good deal of time planning. We are calling vendors and securing our schedule, and ordering materials. There was a bit of delay in getting the green light so we have to start over in this planning stage.
Besides planning vendors we are also planning the armature. Planning an armature is an important element to any sculpture. I always tell students, "if you armature is bad it can ruin your entire sculpture. " Just imagine you are working on a large sculpture and all of a sudden it begins to fall over. In the case of the tiger, it could actually hurt someone.
An armature is what is inside the sculpture to hold it up while we are working on it. It takes a bit of engineering and a bit of history to know exactly what to do when building an armature. While I plan I send my plans off to others for them to look at and weigh in.
The main body of the cat will be milled out in foam. The foam, when it is together will probably weigh in at about 160 lbs. We will be adding wax on top of this as well as clay. This may add approximately another 300+ lbs to the piece. That is a lot of weight to be so high in the air.
The rocks are another element that has to be created. This will most likely be sculpted out of a different type of foam and then covered in clay.
We are still figuring the best way to sculpt this tiger.  The artist in me says let's put him together and work on him, which means I need a warehouse that is about 15 feet and have to move my entire studio.    I like the idea of being able to see him all together.  It also means I'm sculpting very height in the air, on ladders and scaffolding.
Another thought is to sculpt him in two pieces The first piece will be the rocks and his tail and back legs. The second piece will be the upper half. This way it is much safer for myself and my interns. I'm leaning in this direction. Though we will have the basic shape of foam and tiger put together before we separate these two pieces. So we will be able to see the design as a whole.
More to come. Meanwhile we are finishing up our last project and moving things around getting ready for the tiger while the vendors are getting our foam ready. Time before we receive foam should be about 3 weeks.