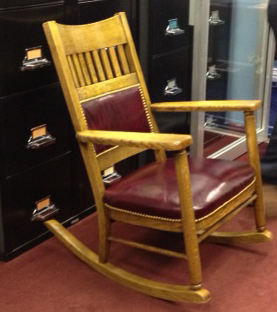 While at Dallas Baptist University, we took a walk and looked at the art, as well as the placement of the proposed sculpture. Then we began to brainstorm about a pose. At first Dr. Blackburn was posing, but it was understood that the sculpture was to be of a younger man, so I encouraged Dr. Blackburn's assistant, Shannen to step into the creative process.
Finalizing a pose and obtaining photographic reference is a huge part of the process. For those artists reading this blog, the rule of thumb is— you can never have enough photographs as reference. We still had not settled on the chair, and as mentioned in a previous post, to expedite the process and make the deadline, I intended on finding a chair in Houston and taking it apart for mold making.
Then I was introduced to Dr. Cook's chair.
It is safe to say that I became emotionally involved with this chair.  More on that later.
Continuing our work on the Praying Man for Dallas Baptist University. You can find their project blog on Blogspot.