A Collaboration – Success For Best of Big Taste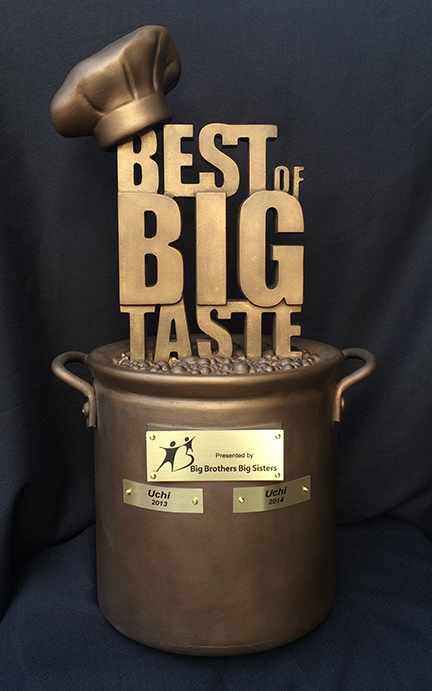 I was so honored to be asked to create an award for the wonderful organization of Big Brother's Big Sisters Houston. When designer Christina Sizemore of Diliberto Photo and Design got involved it made me even more excited. You see Christina is my daughter and I love collaborating with her. Christina came up with this wonderful design for the trophey for BBBS event The Big Taste Of Houston. When BBBS said they were low on funds, the designer and myself donated a portion of our fees, but how could we create this trophy? BBBS could not afford the cost of a bronze. Well, I have had great experience with different ways of creating things both digitally and traditionally and it got me to think of alternative solutions. I talk about a lot of these solutions in my book coming out in September, 3D Technology in Fine Art and Craft: Exploring 3D Printing, Scanning, Sculpting and Milling
.
I have been watching and lusting after my own CarveWright machine for a while. They are a vendor I featured in my book. I contacted them and asked them if they had a woodworker that they might want to work with me on some projects. I was elated when Joe Lovchik came on board and volunteered some of his time to work on this project.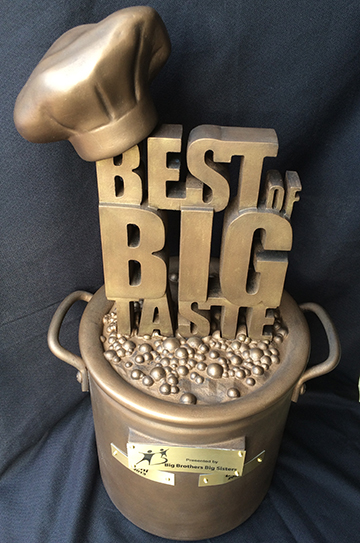 I took Christina's design and created it in the computer using ZBrush. Joe helped with the text as ZBrush is not great with text. I sent the files to Joe and he competed the trophy in wood and stained to look bronze. He CNC milled the piece and stained it to look bronze ( computer numerically controlled) . Joe even put together a tutorial on the process. Thank you Christina Sizemore Diliberto Photo and Design, and Joe at CarveWright. It was a pleasure collaborating.
I'll post some more photographs of the event after it happens.BBBS came to pick up the trophy today and they were elated. Can't wait to see what others think.