A Different Sculpture But Many Similarities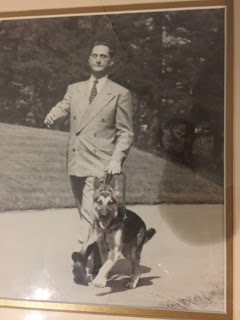 I spoke with David Johnson of Seeing Eye Inc. As I work with my own sculpture of John Turner I have many questions.
Where does the dog face?
How close to the man is he?
Where is he in association to the handler?
What is the hold on the Harness?
David helped me a lot. I am surprised at how much this David spoke a lot about John turner. HEre is his correspondence.
David told me about a sculpture similar to the one that I am doing. In fact I'm surprised that we have both come up with the same pose. According to WIKI.
" On April 29, 2005, a sculpture titled The Way to Independence was unveiled on Morristown Green in Morristown. The sculpture of Frank and Buddy, created by John Seward Johnson II, is made of bronze and painted in full color. It captures the pair in mid-stride, with Frank motioning his hand ahead as if he is giving Buddy the "forward" command. "
I wish I had a photograph to show of this sculpture. I was first motivated to create the type of work that I do because of a piece I had seen of Seward Johnson when I was young.  I like the work, but have always felt that the faces lacked something. Even with all of the detail and color, it lacked something. It is my own personal opinion and I still love the work, but that is my observation. Seward is noted for his full color patinas. I prefer a traditional bronze patina.
"Please find the attached photo of a photo of Morris Frank and Buddy III that was used for our sculpture in Morristown. It gives good movement and posture perspective not dissimilar to John Turner.
As I mentioned earlier,
John is an honored and cherished graduate of The Seeing Eye. 25% of our Board of Trustees is comprised of graduates of the program, and John held a board seat for a number of years. John has been a huge advocate of our school for as long as I have known him, and I have had the privilege of being in class with him more than once. One of John's hallmarks is that when he is engaged in conversation with you, you are the only person on earth. He is extremely sincere and a worthy opponent in debate. John has remained so close to The Seeing Eye that he opens his home to our staff any time we are in the Dallas area. Just last summer he, Linda, and Jessica entertained a dozen of us at their dinner table. John's blessings before a meal in our presence always involve kind words and tearful emotion about his dogs, his instructors, and our organization. I am honored to call him a friend. One of the most endearing things about John is that we might not speak for months, and out of the blue he will leave me a message wishing me a good day and telling me how much our organization has meant to him in his life. He's better than a paycheck."
All of this is so inspiring, I can hardly wait to get back to sculpting.