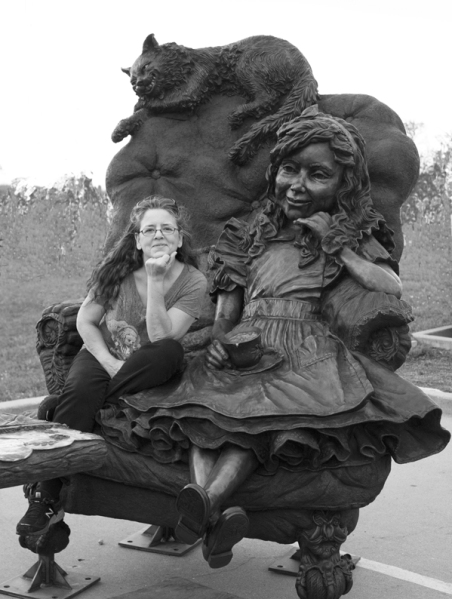 Bridgette Mongeon is a sculptor/author and public speaker. She has worked on various monumental sculptures over her 30+ years of creating. You may see her work in the Grambling Tiger in Grambling State University or the Prairie View Panther for Prairie View A & M.  She has also been commissioned by Kindness Without Limits to create a sculpture of Neil Armstrong for Space Center Houston and Russia. She is most known for her monumental sculpture of Alice in Wonderland's Mad Hatter Tea Party in Houston, Texas.
Added to her credits are the author of 3D Technology in Fine Art and Craft: Exploring 3D Printing, Scanning, Sculpting, and Milling and co-author of Digital Sculpting with Mudbox: Essential Tools and Techniques for Artists. 
She was nominated as 30 most influential women in 3D Printing and enjoys lecturing to students and adults on the subject of STEAM- the interdisciplinary educational initiative encouraging Science, Technology, Engineering, Art and Math. If you are an art teacher in Texas, you may recognize her as the keynote speaker at the Texas Art Educators Conference 2017.
As part of her sculpting the Booker T. Washington sculpture for Booker T. Washington High School, she has offered to create blog posts documenting her work with educational materials for teachers and students. Please follow along and share your thoughts.
Below Expanding Your Horizons in Math and Science Key note Speaker Bridgette Mongeon.
[youtube https://www.youtube.com/watch?v=7qhaP_GUmHM]
Author Sculptor Bridgette Mongeon
https://www.instagram.com/bridgettemongeon/
https://www.facebook.com/BridgetteMongeonSculptor/
https://twitter.com/sculptorwriter