Another Newsboy to Be Created
Many times when I create a sculpture I reserve the rights to pour additional castings of the sculpture. That is the case with the newsboy. I had a client that contacted me and asked if they could purchase the sculpture and could I change the newspaper.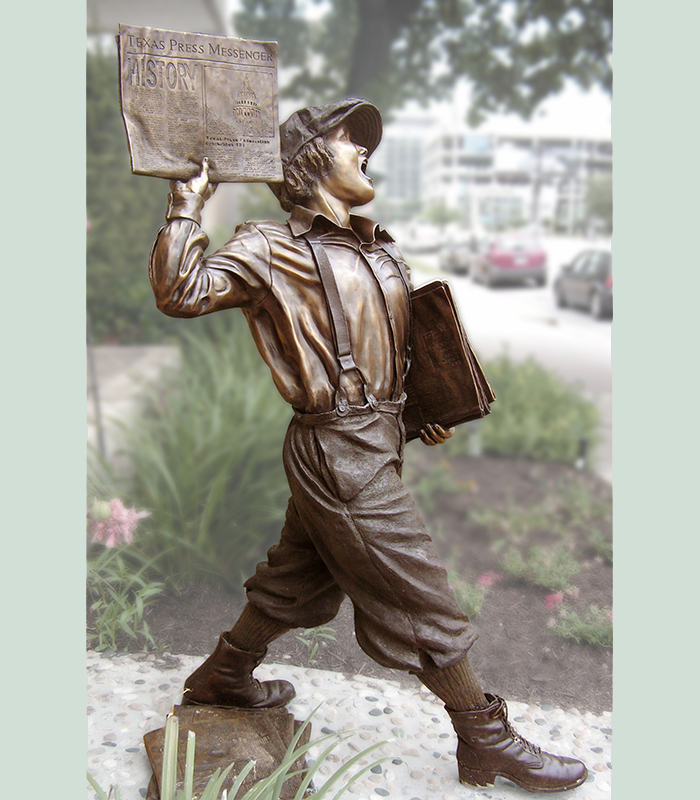 I think the idea is marvelous. Each newsboy with the headline and masthead of the newspaper that is pertinent to their history. I am sorry I can not reveal the purchaser or the headline, though it is fascinating. The sculpture is a being created as a gift for someone who used to work in the publishing industry. Just in case that person happens to be surfing the net and finds my litte obscure blog, I'll hold off on the details until the gift is presented. I am thrilled that another newsboy is being cast. It is at the foundry now.
If anyone is interested in one of the life size newsboy sculptures, the price, at this date is $20,000. If you would like the newspaper changed to fit your headline and masthead there is an additional $2,000 charge. To do this I hand carve each of the papers, and there are many. There is one in the newsboys hand, one under his other arm, and several on the ground. My client sent me a copy of the newspaper that they wanted to produce and I created a mock up to show them what it would look like. OF couse we can't put all of the copy, there is greeking or scribbles where the body copy is. There is however the masthead, the headline and the look of their paper.
I also won't change the back of the paper. The copy reads "in memory of Skinney and others" If you are interested in the history and the hidden meaning behind the back page of the newspaper check out this part of the journal by following the newsboy category, and then read the link to the death of a newsboy.