Boxed Angel Wings and Baby Plays Peek-a-boo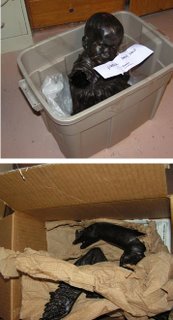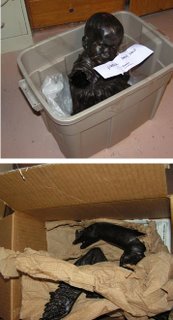 My daughter used to love playing in boxes when she was little. That is the feeling that I get with this picture that I quickly snapped before loading Jenna into the van to go to the foundry. I have her taped in so there is no chance of her little roses coming off of her dress. Her little wings, and the hand now with a butterfly secured to her finger are in another box. It is up to the foundry now!
I have a note on the box that says, "please bead blast" When the sculpture is in complete it is usually sand blasted before the patina is added. Not many people use the bead blast but I'll tell you it makes a difference. How to describe it… softer, yummy, translucent? I really don't know how to describe it. Not long ago I was at a foundry and they were boasting about a sand that they use. I think it was some sort of Oklahoma sand. I am such a tactile person, I immediately asked, "may I touch it?" The moment my fingers touched it I was reminded of the only other time I "felt" what they beadblast with. I thought is was interesting that my fingers had a memory.
I still have Jenna wax two in the studio. My goal is to get her together before the end of the month for display. I have several clients coming to view my work, and it would be nice to have her there. Thank god for apprentices!