Busy With Various Things.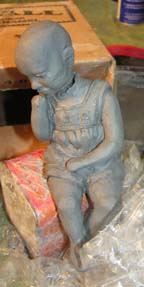 The studio has been busy. Bryan has been helping out with the Dick Hathaway satchel and also has helped on the molds for both the life size bust and the wax of the woman and baby. He is a good worker and a pleasure to have around. As I stated before, we are documenting that entire process of mold making on the new forum. We took a tour of the foundry when picking up the wax of the life size bust. Bryan has been with me for only two weeks and has had quite a bit of exposure to the entire foundry process. Next week he will learn to work on waxes as we will be pouring many waxes and working on them at the studio. Besides mom and baby and the bust we will be working on seven small newsboy sculptures.
I have been enjoying working on sculpting the small baby. The head is not attached as I alternate between boy and head. The head has a dowel in it that attaches to the body. I had to replace it with a longer one as it fell off once and smashed on the floor. Little heads are hard to keep on in clay, I have had this happen before. I still have a lot of work to do on this piece but it is a very pleasant distraction from mold making and computer stuff.