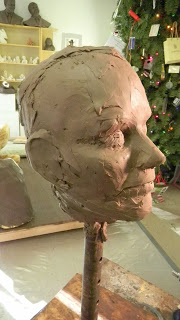 Continuing our work on the Praying Man for Dallas Baptist University. You can find their project blog on Blogspot.

Heads are always created separately from the body and then added to the sculpture.  How is it added?  I pound  long rods through the head and body.  Though I am working on it in another location of the studio, the interns are adding wax and clay to pieces, and we are pulling them together. From time to time,  I'll add the head to the body and step back.  It is necessary to make all of the pieces in proportion to the others. A perfect head that is the wrong size compared to the body is totally useless.  So, I am constantly checking proportions by putting the head on and then taking it off again to work on it.
Originally the chair in the sculpture was going to be created in wood; however, my vendor surprised me with a foam chair. It was ok for positioning, but later another helper would create a wooden chair from scratch. It was a real team effort on this project.