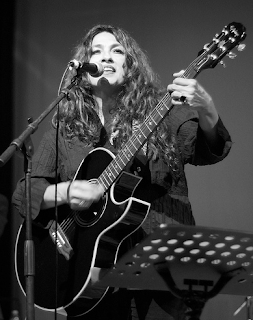 Today was an exciting day as I met with the family of Norma Zenteno. I'll soon be starting a sculpture of Norma for the family. The sculpture is of a young Norma playing guitar while a dog looks on. The family will be placing this sculpture at the Brown Foundation Plaza on Harrisburg in Houston's East End. The sculpture honors Norma and the work of Barrio Dogs.
The family and I sat together and talked about the scheduling details, fundraising and contracts, then parted, but at the last minuteI asked if I could see the place where the family was installing her.
Let me back up a bit, If you don't know my work, I am known for quite a few things in the fine art field. I often incorporate digital technology in my traditional process as I talk about in my last book, I love sculpting children, For a while there everyone referred to me as "the cat girl" because I created the Prairie View Panther for Prairie View University and the very large Grambling Tiger for Grambling State University. I guess recently people know me for the monumental sculpture of Alice in Wonderland's Mad Hatter Tea party which will be installed in November and can be seen on both the Facebook page and the website.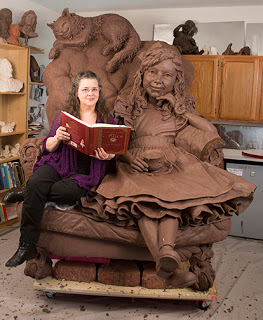 I am also known for my sculptures of deceased loved one. For many, this may sound like a very macabre thing to do, but I love it. A few years back Texas Country Reporter created a segment on this portion of my art. I love developing a relationship with the deceased; I love helping families and individuals come together around the likeness of a loved one that I create. I love giving recognition to an individual and honoring their life through my art.I have written much about this process of sculpting deceased loved ones, and one day I hope to publish a book about it.
In walking this one path of my creative journey, I have found that there are some incredible things that happen. It has been a while since I created a life-size sculpture of a deceased loved one. I had almost forgotten about the connections and unusual occurrences that happen when beginning this creative process. It is strange, unusual, wonderful and incredibly inspirational.
That is what happened today. On the way to the destination for the sculpture, I began to get a "feel" for a part of the sculpture. There is a thing that happens during these types of commissions that I can only describe as a "knowing." Though it has happened over and over again with countless posthumous commissions, it never ceases to excite me. In the case of Norma, it is like she is walking beside me, causing things to happen or showing me how things should go. She solidifies our connection and is in the details, and slowly I get to know her and develop a relationship with her even though we have never met.
I'm delighted with what transpired today. I can't wait for our next meeting when we prepare some photo reference for the project. The family will be a part of this sitting, a loved one is taking her place wearing clothes similar to Norma's so that I can get a feel for this. I love this. In creating posthumous sculpture, I have found that those sculptures that have the most life are those that have a strong emotional connection brought on by the interaction and sharing by those who knew and loved the subject. Somehow, their energy and love is fused within the clay. It is very exciting. I can't wait for the up and coming sitting. I'll share that soon. In the meantime. I have a new friend. She is not on this earth, but I'm having a great time getting to know her, and watching the light in the eyes of her family as we bond.
Feel free to help to infuse this sculpture. Share your stories to help me bond with Norma. These stories, help me to connect to Norma. Your love and memories are transferred to the clay and bring Norma to life. The Zenteno family has set up a website to begin to receive donations for this sculpture. Thank you for being a part of the creative process.
This is the documentation of Sculptor Bridgette Mongeon who created the Norma Zenteno Sculpture and Kippy for Zenteno Spirit and Barrio Dogs. You can find the process blog for this project at http://normasculpture.blogspot.com/