Heights Artist Helps Children With Cancer Through Artwork
Houston Tribune December 2002
Bridgette Mongeon © 2002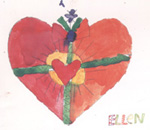 I first heard about Ellie's artwork from her sister Meagan. One day while driving Meagan home from church, I was discussing the production process of my own sculptures that were packed neatly in a box on the floorboard of my van. "I am familiar with sculpting," Meagan replied, "My sister's an artist". I was intrigued, wondering about her sister's art. Moments later I was in Meagan's home and viewing that very artwork. Watercolors were framed and hung with honor in the hallway of their home; colorful animal figurines were corralled on end tables. Stain glass art hung in the window, while reproductions of Ellie's art sat upon the dining room table. Soon Ellie's mom, Jo Ellen Snow, and I were enthralled in a conversation about Ellie's art.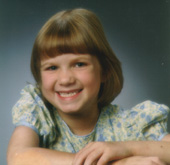 Ellie's painting titled, "Gift Heart" was first reproduced as gift cards. She felt honored to have her artwork chosen by the MD Anderson Children's Art Project. A reproduction of an artist's artwork at any age is quite an accomplishment. It is a tremendous honor when you are only 7 years old. Ellie received a two hundred-dollar honorarium and recognition for her efforts, however, she never would have the opportunity to see the effects and demand that her artwork created. Within a few days of viewing the printed note cards Ellie O' Neal lost her ferocious fight with a brain tumor that held so tightly to her little body. On January 17, 2001 Ellie passed away. The Children's Art Project worked diligently to reproduce the jewelry created from Ellie's art so that family members at Ellie's funeral could wear it proudly.

Since Ellie's death, many Height's residents have honored her. Orange ribbons appeared throughout the Heights. Ellie's Elm is planted in Donovan Park, in the very spot that she held her third year birthday party, the first birthday party to be held in the then newly built park. Harvard Elementary has a Japanese maple, a bench with painted tiles from her classmates, and a courtyard dedicated in her memory. The street median of Heights Boulevard has a sweet gum tree planted by the Houston Heights Association that was donated by the law firm of Snow and Whitworth, Ellie's mom's law firm. "I can see the tree from my window," states Ellie's mom. When driving down Heights Boulevard one will notice the tree still has its orange ribbon.

Ellie studied for three years with artist Naomi Smulian at Arts Studio on the Boulevard. Naomi describes Ellie's artwork as being very sensitive, "Ellie had a calculated sense of design. She loved color and had her favorites," states Ms. Smulian.

Ellie's watercolor, "Gift Heart" is now being produced as a Radko Christmas Ornament. Gayle Goodwin, communications director of the Children's Art Project, states that the ornaments are flying off the shelves. There is discussion of reproducing yet another piece of Ellie's art for the Children's Art Project.

"Anytime you buy artwork from the Children's Art Project, it is a gift that gives twice. All the proceeds from the artwork go to fund the children's projects at MD Anderson, including the art program," states Ms. Goodwin. In the 29 years of its existence 15 million dollars has been given back to the program. Ellie certainly has made her mark on the Heights, the art community, and the many children at MD Anderson. Ellie's "Gift Heart" just keeps on giving.

If you would like to purchase any of Ellie's artwork or any other artwork from the Children's Art Program it can be seen at www.childrensart.org or ordered at 1 800-231-1580.
All written work is copyrighted and cannot be used, whole or impart,
without the written consent of the author.