In Loving Memory of The Studio Dog- Chas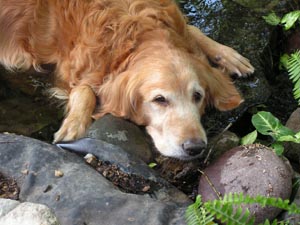 We had Chas for about 9 years. He was 10 years old. We acquired him because of an ad in the Greensheet that said. "retriever needs home." The people looking for a home for him said we were the only family that told them, "Come and take a look at our home and see if this is a place that Chas would like to live." They did. Chas came to visit and never left. He also came with some treats and a yellow plastic flower pot, that up until moving to our home was apparently his playmate. He never paid any attention to that flowerpot after moving here. His previous family taught him a trick of shooting him with a gun, and Chas would pretend to fall over dead. It was funny. He really had no other tricks,oh. yes, he did like to turn circles when the food came out. Emmy, our other dog and he got a long famously. I'm sure she will miss him.

TILLY AND CHAS
When Tilly- the turtle came to the yard there was a love affair between the two for quite some time. They have tried to work out their differences in their two year relationship.

FOSTER UNCLE
Chas helped us with many different foster dogs. He always made them feel welcome and tolerated hair pulling and nips from all of the puppies. Some even sat right in his bowl. Being foster parents to puppies for the Homeless Pet Placement League was easier for us humans because Chas took such good care of them.
He loved the dog park and would always wander off with a "yodee od doe" type of mentality. Sometimes I would find him looking at all of the people wondering where "we" had wandered off. When finding the pond in the middle of the park he would not swim, but instead would put his old body into the water and sit for a spell.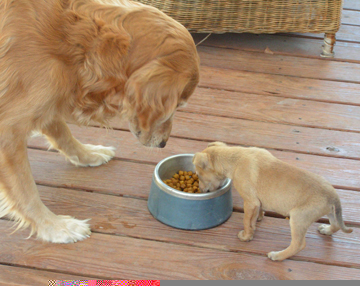 On Monday April 30th Chas went to dog heaven. I am certain that he is with our other dogs, Casey, Bess, and Conan. We did not know that Chas had cancer and quickly went down hill. The last few days I would find him sitting in the creek, his head resting on a water fall, the water trickling round his body. If I were sick, that is where I would like to be.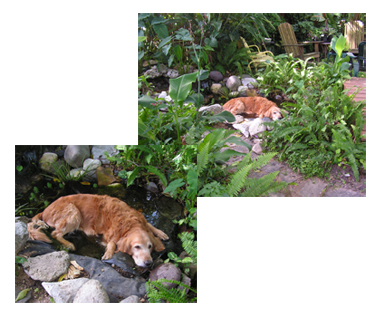 He will be missed. We love you Chas.