Installation Of A Bronze Sculpture – Preparation
The casting of John Turner is actually featured on Bridgette Mongeon's main website. Check out
Preparing to Sculpt
Making a Mold
The Wax
Casting and Metal
Delivery and Installation
Also: This is a sculpture created of John Turner for the city of Frisco. The entire project is documented on a project blog at https://johnturnersculpture.blogspot.com/
Installation of a bronze sculpture really depends on the size, location and base where it will be mounted.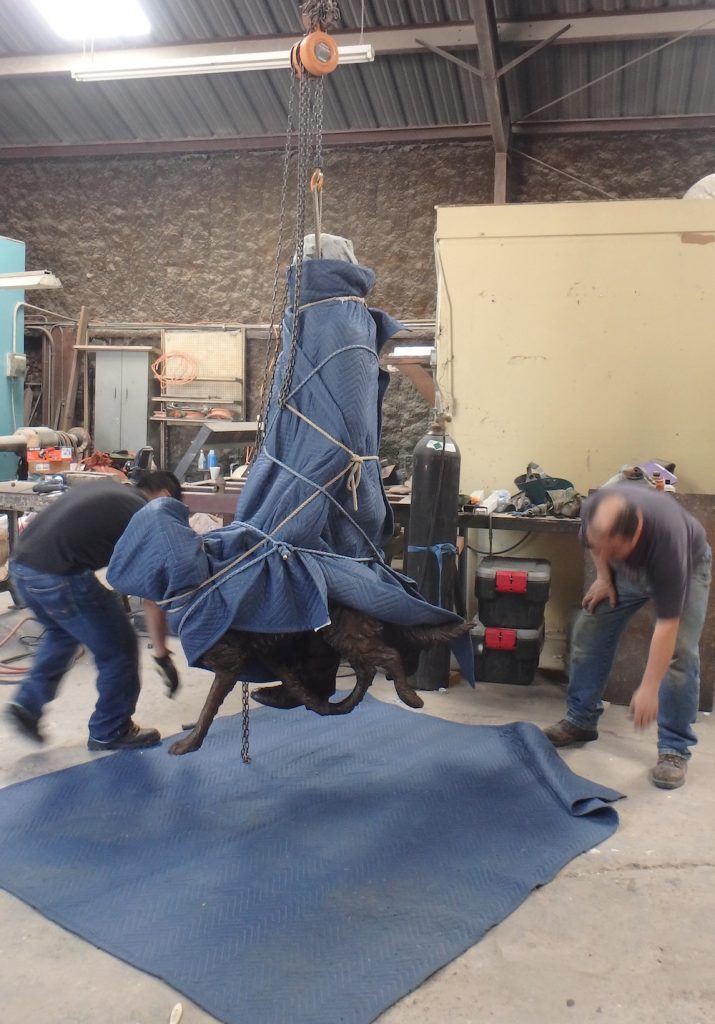 Plenty of time should be planned for installation. If you are trying to set up an unveiling of a sculpture it is best to plan weeks in advance for the installation. Installation and delivery can be stalled by weather. I have, at times, also had deliveries rerouted because of wildfires. Giving plenty of time for pouring and delivery is important.
Miguel Macia works carefully at his foundry. We have seen all of the work that has gone into the sculpture up to this point. It has its final patina and so great care is taken not to scratch the art.
First a pattern must be made.
Some installers may not need this, but I find it is nice to have.
Internal mounting structure
John is placed on his side. You will see nuts that the foundry has welded inside of the sculpture. There are 4 points of contact. There is a nut in Johns toe, one in his heal, one in the front leg of the dog and then a nut in the back leg. It is preferred that all sculptures have at least 3 points of contact. If they do not, then this must be bid and prepared long before this stage. The foundry would need to weld stainless steal in the sculpture to engineer the sculpture properly. In larger sculptures engineers would be brought in on the job to be sure that everything is safe.
Threaded Rods Threaded rods are now threaded into the sculpture and then a cardboard pattern is made. The rod is pushed through the cardboard and then the feet of John and the dog are traced. Now we will see how all of this prep work comes together in the installation of the bronze.
Prep at the Site
Nouveau Construction created the concrete slab at the site. I sent them specifications as to how deep and wide the slab would need to be to accommodate the weight of John and his dog and to look aesthetically pleasing. Ideally I would have loved to see John on a continuous walkway, with the same look as the other walkways, instead of just on a pad. I really love it when my sculptures just blend in with their surroundings.
With the concrete poured and the sculpture loaded we keep an eye on the weather and plan our route. I also take the following:
Extra patina, brushes and wax, just in case the sculpture is accidentally scratched.
A torch to melt the wax
All of the clients reference material
A release form
A form that describes the care of a bronze
A sledge hammer. If someone else is installing the sculpture they might bring a sledge hammer. You will see the use of this at installation.
Transportation of a sculpture can happen in a variety of ways. I have fit many a body in the back of my van and when possible I like this way best. An enclosed vehicle makes me feel like the sculpture is safe, and I often have to make stops and sleep along the way. Though I carry insurance on all of my sculpture projects safety is important for me. I don't want anything to happen this late in the game.
If I were to transport John and his dog on a trailer he would not be covered. My art shipping company of choice is Acts Crating and Transportation. They ship all of my work, unless a foundry offers shipping at a better price. If a sculpture is shipped on an open bed the flapping of the tarps can sometimes rub off the patina. If he were on a trailer he would be on a very interesting walk from Houston to Frisco, Texas.
Author: Sculptor Bridgette Mongeon