Making Friends With The Deceased- Being a Part of Family and History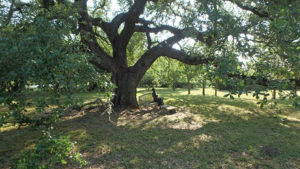 When I'm not sculpting monumental Alice in Wonderland characters, you may often find me making friends with the deceased. That is what someone told me years ago. It took me aback, but I realized that is what I do. I create posthumous sculptures, and like the video for Texas Country Reporter states, I get to know my subject very personally and at special times I'm now realizing, I get adopted into a family. I can feel that now as I work with my new sculpture of Norma Zenteno, an incredible musician who died of breast cancer. The "feeling like family" and becoming friends also extends to those four-legged critters as part of the Norma project I'm sculpting Kippy, a rescue dog from Barrio Dogs. I feel the warmth of family in this new commission, and this weekend I felt the warmth of family as I visited an old friend.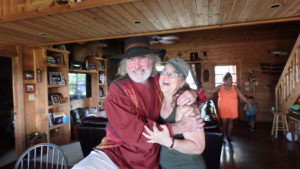 I sculpted Patsy over 11 years ago in 2005/2006. Looking back it was an interesting time of transition. I had just built my new studio behind my home, began a regular blog on my website, and was writing a book on the process of sculpting the deceased- still unpublished.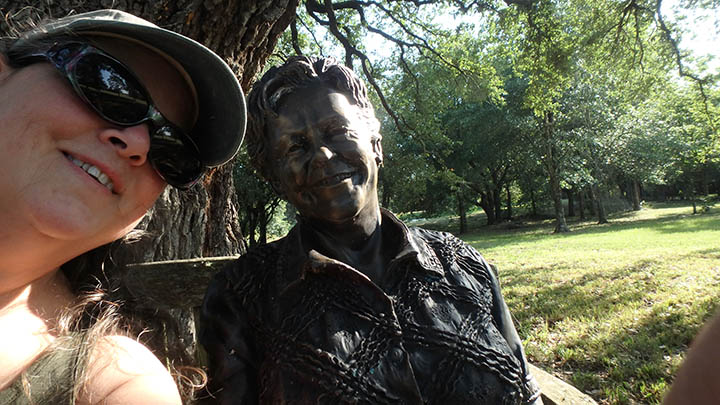 A few years ago I began to receive invitations to a family party on the Patren Ranch. This is a ranch that has been in Patsy's family for over 100 years.   David, Patsy's son and his wife Becky live on the property.  David is also a musician so besides visiting the sculpture of Patsy under a large old oak, where "tree Whisky" hangs, there is always great live music.  Though it is a long drive home, I had to stay late, just to hear David play his fiddle and see the family begin to join in on the revelry. If you know me, you know I'm all about the music, either dancing or joining in on harmony, it is one of those other favorite things that I do.  The rolling hills and the old refurbished family home, now a museum complete with the German history of the area leaves me feeling nostalgic and sentimental.  Clusters of Blacked-Eyed Susans crop up in wild areas, and crickets hop over my sneakers on patches of dry mowed lawn as I wonder the fields.   An olive grove was put in by Patsy's husband, Howard a few years back and I'm tickled to go see the progress. I ramble past the new old "kitchen" building.  Howard tells me they are  building it from reclaimed wood. I hear it will be the "music" building.  I have longed for property for which to grow my business, and for which to grow historical relevance and pass on to the family.  While walking through the main house, a charming young man grabs my hand, shakes it hard, and says, "I'm Cody, Howard's grandson, I'm so pleased you are here." His intensity, charm, and warmth radiate from him. I watch later as it spreads on stage with his singing.  I know very few people invited to this gathering save for Howard, Patsy husband and Jennie, Patsy's best friend who posed for the sculpture. But the family embraces me like I'm a relative who has been away on a journey. With the tight schedule of the Alice Project, I have been away and have not been able to attend a Patren Ranch party in a while. It is good to be back.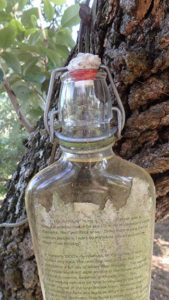 Howard and I sit by the new pool, as the sun sets over the rolled up bales of hay in the field, me dangling my toes in the water and talking as I watch the family dogs jump in and sit on the pool ledge slightly submerged in the water.  I am sure this was built for them. They bound out, sniff me and Howard, and then chase after their mates clearing the small stone fence like graceful equine jumpers. It is a playful ritual that is repeated several times during our visit and endears me to the family, and property all the more.  I sip a frozen margarita and Howard and I talk about the last ten years and my career. It forces me to reflect on my accomplishments. I'm glad I brought him a copy of my book. I'm extremely thankful for all of the commissions that have brought me to this point in my life.
Later, a  young woman gathers around my prime seat in front of the stage, my space where I have parked my things for the last several hours. She says, "I need a chair like that. It looks so comfortable." I tell her it is my camping chair and stool. "Do you go camping a lot," she asks. "I love to," I say. Her reply makes me laugh, " Well I am not a camper but I like sitting and that is a fine chair for that."  Not long after that I pack up my "fine chair" and prepare for my long drive down the back country road to  Houston.
The music, the family, the incredible refreshing property that is Patron and the memories have refreshed me. I think of all the people who have referred to my sculpture and said, "I'm so glad we have Patsy to visit."  I have become a part of a memory, a part of the history of this family and this property through my work. I'm so very honored. Thank you, Patsy.