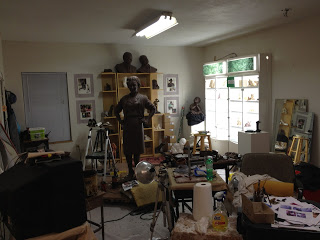 I spend a good deal of my time, taking off clay and putting it on. Because I have the foam armature I am also digging out foam, covering it with wax, then clay and smoothing.
The reference photographs are scattered.
With that said, I spend a good deal of time, scraping the floor, my shoes and having to clean the studio. It is a mess, but mess, means I have progress.
This is the blog about the creation of the Evelyn Rubenstein sculpture for the Evelyn Rubenstein Jewish Community Center in Houston Texas. To see more of the artist work, visit her Creative Sculpture website and Blog
______________________________________________________________
Bridgette Mongeon is a sculptor, writer, illustrator and educator as well as a public speaker.
Her blog can be found at https://creativesculpture.com.
She is also the owner and creator of the God's Word Collectible Sculpture series
Follow the artists on twitter twitter.com/Sculptorwriter twitter.com/creategodsword
Facebook http://www.facebook.com/bridgette.mongeon
Listen to The Creative Christian Podcast or the Inspiration/Generation PodcastClick on Podcast Host Bios for a list of all podcasts.
Listen to the Art and Technology Podcast