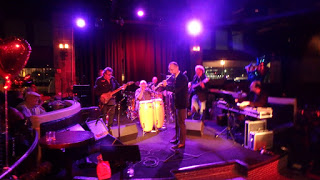 Music
Today I had the incredible privilege to hear the Zenteno band play. What a treat. I arrived out of a business meeting late at Sambuca's after scrambling to park my huge van downtown. The presence of the band was impressive. The personas of each of the individuals in the family changed when on stage. You can tell that for them… this was home.
This video is old and shows Norma playing with her dad.

It was an emotional night as one of the musicians Lindy Pollard was leaving Houston and this was his last time playing with the band. If I recall this history correctly, he has played with a member of the Zenteno family for 40 years.
The warmth from family and friends and the looks on their faces when we began to talk about the sculpture was endearing. Each person added to the intensity, passion and life of this sculpture through their sharing. I encourage you please share both stories and photographs on the Norma Zenteno sculpture page. These stories help me to bring life to the sculpture.
Time and time again, I have heard people say that they still feel Norma, or have had "Norma" experiences since her passing. I listen intently as each experience is so very personal, so very touching. I get the feeling that Norma embraced the essence of each person she met. Cherished them and made them feel special.
MUSIC FOR ME.
Many know me as a sculptor. Few people know that when I was in high school I vacillated for a time about whether I should be an artist or a musician. My childhood experiences with music were like many. I took piano, because my sister took piano, it was in the house and what you did. Though I have to say that reading music and spending hours plucking out notes to songs that were way harder than I could play, was probably my first inclination that I was self motivated. I also played to sing. I love to sing.
In grade school I took flute, but family life and other distractions made it impossible to focus and so that was not a good experience. It was not until I was in Junior high that I thought I might like to learn guitar. I got a paper route and worked it long enough to get enough money to buy an acoustic guitar and a few lessons. I still have that guitar. Somehow old musical instruments are like family members. Some friends nearby played and I asked them to teach me some things as well. A guitar suited me. It was different than what my sister played, and was transportable. I could play the Mommas and the Pappas, Melanie and other folk artists.
Also from grade school I loved music classes. When I found out there was actually a place where a group could sing called a chorus I was elated. Even today I will put down the guitar and sing harmony given half the chance.
My graduate school was a liberal arts college. Goddard College in Vermont let you design your own program and since I wanted a program that focused on 3D technology in fine art it was a win. It was a distance low residency program, which meant we had to go to Vermont twice a year, for a week. We lived in the dorm and planned our next six months learning schedule with our advisors. What I loved most about this is that there were artists, actors, writers, musicians of all sorts. The college came to being in the 60's so there is a lingering hippie vibe to the college on a farm. Down the hill is the music building. When I was not preparing my studies I spent my time there. I did not bring my guitar but instead my coffee cup and my dorm key as I would play percussion and sing. I was not the only person improvising as some students played the bottom of drawers. The music room was also the place of a the fire pit. So even if it was snowing and freezing I would alternate between hanging at the fire pit and singing inside with the musicians. It as at Goddard where I met musicians who were focusing on exotic instruments or things like overtone singing. It was a creative atmosphere.
My other major music influence is my adopted dad Harry Shepherd. This jazz vibaphone artist and I have known each other for years, and I adopted him long time ago as my surrogate dad, he bought me my last guitar. So, having Harry in my life has introduced me to a lot of Houston music.
I spent more time playing in church than anywhere. I have been a music leader in a few churches. I don't play that much anymore. But in honesty I did pick up my guitar the other day to learn True Colors from the movie Trolls, inspired by my granddaughter. I sing mostly to her. She has her own show tunes, and requests them each time I put her to bed. Music is in my blood and would have been my alternate path had I not been a sculptor/writer. It brings me great joy to participate with other musicians and singers and it is that "high" that I can feel when I think of Norma's performances.
When leaving Sambucas that evening I said goodbye to Norma's daughter, Angie. She shared some incredible stories of her mom with me this night, as many others did as well. But Angie also was the recipient of something else that this process holds. Creating a sculpture of a deceased loved one and being a part of the process brings a closeness, a healing, a way to have a celebration and continuing bonds. Angie held out her arms and cried "Mia" which if you are not hispanic, I'll translate, it means "mine." We embraced and in doing so I felt Norma hugging us both. I heard Angie's voice echoing with her mom's as she hugged us and watched on. Norma is in this project, and I'm so honored to feel her presence and get to know her. She is an example for all of us in how we love and care for others.
The family is trying to raise money for the project. Please share this information and visit the blog to donate.
---
This is the documentation of Sculptor Bridgette Mongeon who created the Norma Zenteno Sculpture and Kippy for Zenteno Spirit and Barrio Dogs. You can find the process blog for this project at http://normasculpture.blogspot.com/