New Artwork- Working On A Cameo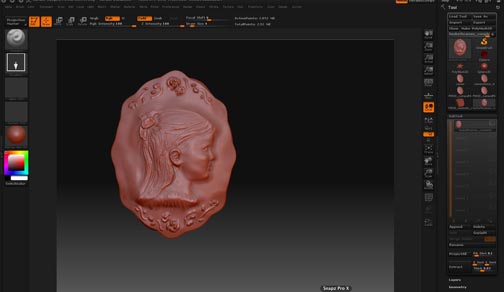 Creating a bas-relief, a portrait that is flat and appears to have dimension, is something that I am asked to do quite often but have not had the chance to create. In the past, with the busy commission schedule in the studio I rarely have time to play in something or experiment. It is something that I have enjoyed about my graduate studies, exploration with play, and I love documenting my work! Working with a bas-relief created digitally was a way to explore this new style of sculpting.
The inspiration behind this new direction is the many cameos that my mother has given to me over the years. Beautiful women are sculpted in a variety of materials. Of course sculpting that small, the size of a brooch is a bit tedious and hard on the eyes. Besides I didn't just want to make any person, I wanted to do a specific person.I was wondering if I could create this type of art using tra-digi means( traditional and digital process). Here are some photographs of my first attempts. I'm going to try some others and then have them printed or milled out as jewelry.