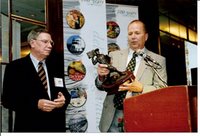 The best part of the newsboy sculpture is that it consistently becomes an added part of the celebration of history. The Newsgroup in Canada purchased the sculpture to honor those involved in the celebration of the 100th birthday. Here is the copy that they sent, just in case anyone else is interested in the history.
______________________________________________________________________________
Monday is our 100th Birthday!
The story of the O'Brien family is a great one, as the first pioneer in our business in Canada.
E.H. O'Brien was born in 1886, and left school in Grade 6 to support his family.
Ed O'Brien started his business on the 26th of November, 1907, with the Toronto Daily Star as a part time operation with ten dealers. At the same time, he was working in a cigar factory making cigars. The business resided in a small office on King Street East in Hamilton, with about 150 square feet of floor space which contained a desk and a telephone. Deliveries were made on a child's wagon.
In 1909 the business had grown to the point that Ed went into it on a full time basis. He rented a horse and bought a wagon for deliveries. The "Hearst" franchise was acquired at this time. In 1914, the "Curtis" franchise was acquired, and in 1916 the first truck was purchased at a cost of about $600.
By 1918 the business had grown with acquisitions of Muncey, Macleans, Consolidated Press and others. In 1921 Ed purchased the F.J. Roy News Company. At this point, Ed was an earlier consolidator, as all independent franchises in existence at that time were acquired.
In 1923, publishers supplied E.H. O'Brien for the Brantford, Ontario market as the former operator had gone out of business. A new company was formed, General News and Novelty Company, which supplied over 150 dealers in Western Ontario.
In 1934, Ed started the National News Company in Ottawa, Ontario, and subsequently purchased the other independent news companies in Ottawa.
Close behind E.H. O'Brien, was H.H. Marshall, who founded a newspaper and magazine distribution business in Halifax in 1908. Harry Marshall was born in 1883 and started his career as a newspaper boy. By the turn of the century Harry had several routes in Halifax, and had opened a men's apparel store, along with his newspaper business in 1906.
As they say, "The Rest is History!"
Today we are proud to continue in the traditions of E.H. O'Brien, H.H. Marshall and family to supply over 45,000 customers in Canada and the United States. We continue to serve our fine publishers of magazines and books, delivering knowledge daily to millions of Canadians and Americans.