Newsboy- Life Size- The Editions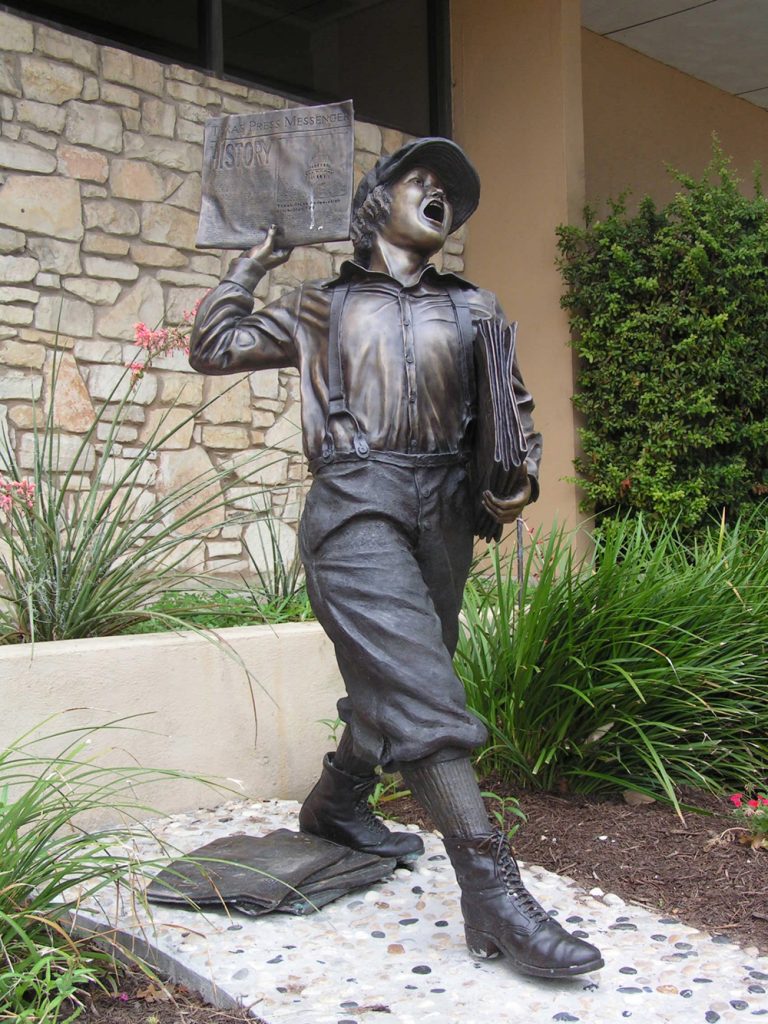 Sculptor Bridgette Mongeon documents the creating of a limited edition, bronze figurine and life-size Newsboy sculpture for the Texas Press Association. Bronzes are available for purchase in both sizes.
First Edition- Texas Press Association
The sculpture was originally commissioned by the Texas Press Association and intended for the State Capitol building in Austin, Texas. For the sculpture to be placed at the capitol building it must first pass through legislation. Until then, it presently resides outside of the Texas Press Association building. If you would like to see the sculpture it is located at 718 W. Fifth St., Austin, TX 78701.
Second Sculpture In The Edition-Tabor City Tribune
The Meyer Gallery in Utah contacted me about the edition of the life-size bronze Newsboy. Their client wanted to buy one in the edition to honor the Tabor City Tribune and the former editor/publisher Walter Horace Carter. They inquired to see if the Newsboy could be recreated with a replica of the Tabor City 1953 newspaper announcing their winning of the Pulitzer. That is where the idea of changing each newspaper for the rest of the newsboy life-size bronze edition came from.
According to the 1953 Tabor City Tribune newspaper that was sent to me, they were the first weekly paper to receive such an honor and shared it with Whiteville News-Reporter. Both papers were chosen for their crusade against the Ku Klux Klan, quite an impressive and courageous accomplishment, in this artist's opinion. I am thrilled to be a part of this place in history.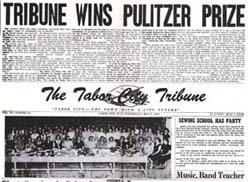 The client sent me a copy of the paper. I had to modify the design of the newspaper so that it would translate to bronze, but was able to keep the look, headline and masthead of the paper. To recreate this paper for the bronze a wax is poured for each of the papers that are a part of the sculpture. There are some under his arm, one in his hand and some at his feet. Each must be carved in the wax to represent the new paper and headline. Here you will see the copy of the newspaper, my marker layout, the wax and how all of that transferred into the details of the bronze papers. Of course the back of the paper remains as I created it with the tribute to Skinney and others based on the historical article written by history professor Vincent Digirolamo.
I am still waiting for photographs of the placement of the sculpture and official comments. You can follow these links to read more about Horace Carter, Tabor Tribune and Tabor City.