Newsboy-More Research and Progress on Small Newsboy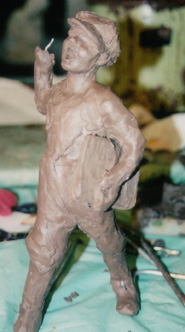 September 11th-17th, 2004
Sculptor Bridgette Mongeon has documented the entire process of creating a figurine of a newsboy and a life-size bronze sculpture. Watch the artist work through these posts. In this blog, she has also included information for students and teachers. In the previous post, we a little about the Sculpting of the Small Newsboy
If you are lost and want to go back to the chronological running list of posts, follow this link.
---
What an incredible week this was. Here I am, Friday afternoon, trying to type all that happened this week. The last few weeks I woke early each Saturday, because I just couldn't wait to post the new photos and the progress on the sculpture. It's late Friday, and I decided I better get going on the update. It is kind of hard to type on the computer while at my studio. My hands and fingers are sticky with the clay.
RESEARCH
I wish I had photos from today's work on the newsboy, but those will have to wait until next week. I am sure you will still see some progress on the sculpture from photos taken at the beginning of the week. In all honesty, I have not been able to sculpt much on the newsboy this week. Instead, my days have been busy with changing the Texas Press section of the website to include a teacher and students' section. Some schools are beginning to utilize this web site as an educational tool for students. I would appreciate help in getting the word out to other schools. I will continue to add a teacher and students' section each week.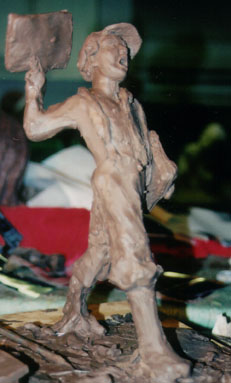 I have also been very busy doing the research on the sculpture. I put a great deal of effort into defining the final outfit and finding the suspenders. Though I would like the kind of suspenders with leather at the bottom-you know, the kind that Pa wears on Little House on the Prairie? I love that show. I did find some suspenders that will do. These are the ones with the buttons, and that was the most important thing. The way these suspenders attach to the pants, compared to the imitation button in the first photo sitting is different. Because it is different, it will make the tension on the pants different, and that changes the folds. But, I have suspenders that will work, thanks to Way We Wore Vintage Clothing. This is such a cool place to visit, and I highly recommend this vintage clothing shop to those visiting Houston. I discussed the newsboy project with Pam, the owner. She had quite a bit to share. I learned that one of the reasons why I cannot find "vintage" clothing for this project is that boys wore out their clothes. That makes sense. Girls and ladies clothing can be found, because they were so dainty in their clothing, but boys just wore out their clothes. Pam and I also talked about buttons on the boy's 1929 clothing. She told me that looking at zippers and buttons is the way she dates clothing, and in 1929 the boys pants would have buttons. My research on the history of the zipper did prove that this is correct.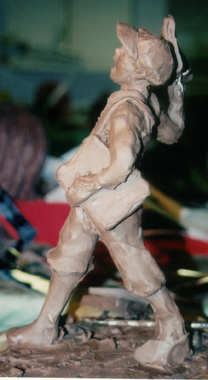 So, I was still perplexed with how these knickers should look. One of my sculpture students, a retired doctor, said he wore knickers when he was a young man. He said they ballooned much more than the one in the preliminary photo, and he agreed that they had clasps at the knees. I appreciated the first hand information.
Now, back to the Internet. What did we ever do before we had the Internet? I must have e mailed 20-30 different people, everyone from vintage clothing people, to vintage pattern people to college professors and historians. I received an e-mail from someone in the middle of the week suggesting I rent the video Newsies to see some of the outfits. I ordered it right away. Newsies is a Disney musical created a few years back. It depicts the 1899 strike of the newsboys. To my dismay, most of the older boys were wearing long pants, but a few did have knicker and almost everyone wore suspenders! I loved having the movie because it added to the passion for this piece and once again reaffirmed to me just what important things kids can do.

Thursday I received an e-mail from the Vintage Pattern Lending Library It said:

Hello Bridgett!
Sorry for the delay; we've been a bit busy. As it happens, we do have a book with a complete boys' outfit, including knickers, from about 1925 which sounds like what you are looking for. Let us get back to you in a day or two with more details; we will have to draft it out of the book if you need a full-sized pattern. Hope this is helpful – your project sounds fascinating!

Best wishes,
Chaz Engan VPLL

When I received the e-mail, I screamed! Maybe my search is over. It will be something to see, this vintage pattern. Though I love to sew, I rarely do, and I would not consider myself a pro. I wonder what the pattern will look like, if it will be marked differently from patterns of today. Their site also says:

Some of the items in the VPLL archives might be the only originals in existence.

After this weeks search, I believe it. I never really thought about all of this until receiving this commission, but I am sure glad that someone has taken the initiative to preserve this part of our history. My newsboy hat is off to you VPLL!

By the way, while looking at all of these old patterns for women, I wish I could take some time to sew some for myself. I can't help but wonder-were people smaller back then? Most of the women's patterns are women with a size 26 waist. 26!

So, while I wait for this final outfit, I can still work on Dusty's face on the small sculpture. That is what I have been doing for the last 24 hours. It felt good to get back to the clay, but as I feared the face grew a little bigger than the body so I made him slightly bigger than 10″. It was much easier to manipulate the roughed in body than it would be to fix an almost complete face. I wish you could see today's photos, they will be posted next week. The sculpture has so much life to it, the turn, the step, the face, the tip of the head. In one photo, Dusty's hat was just a bit off to the side, not much, but a bit, and I thought, OH MY, THAT IS GREAT! It was one of those happy accidents.

Even though I don't have the last photos for reference of the figure, I can also start to prepare the large armature. As I said, this pose is great, and working it out small gives me the opportunity to see how the large armature should be constructed.

This weekend, after putting up these recent updates, I think I will pop some popcorn, watch Newsies, and maybe start a scrapbook for Dusty.

Let's move on to the next section of this documentation. Follow along as the artist decides to make a period outfit and finds A Sewing Pattern for Knickers and Sculpting Continues.
---
STUDENTS AND TEACHERS
History
• There was a sales campaign for the zipper in children's clothing in 1939. Can you search the history of the zipper link above, and tell me what items the zipper was used for before it was used on pants?
• There is a copy of the newsboy strike printed in the New York Times, July 21, 1899. Kids your age were able to change the minds of very powerful people.
"Friens and feller workers. Dis is a time which tries de hearts of men. Dis is de time when we'se got to stick together like glue…. We know wot we wants and we'll git it even if we is blind."

The New York Tribune quoted Kid Blink's speech to 2,000 strikers: