Newsboy Sculpture-The Beginning.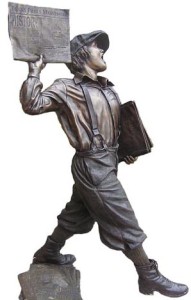 Sculptor Bridgette Mongeon has documented the entire process of creating a figurine of a newsboy and a life-size bronze sculpture. Watch the artist work through these posts. In this blog, she has also included information for students and teachers. In the previous post, we learned a little about the artists thoughts on the project.
If you are lost and want to go back to the chronological running list of posts, follow this link.
Thank you to the committee members of the Texas Press Association for choosing me as the artist for the newsboy sculpture that is intended for the state capitol. I am honored to participate in your 125th anniversary.
I was thrilled to be awarded the commission and have decided to document not only the artistic process but also the thought process of the entire work of art, an artist's journal, so to speak. It is a way for the members of the Texas Press Association and others to witness the creative process and share in the personal thoughts of the artist.
I will try to update often, so please check back to see the progress.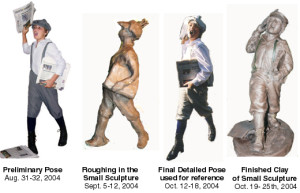 I certainly welcome and appreciate newspaper coverage, as well as any other media coverage, and I will help anyone that is interested in getting the elements that they might need to create newsworthy stories. I would also appreciate your help in spreading the news about schools that are evaluating the Texas Press section of this web site as an educational tool.
---

Students and teachers
At the bottom of each page, you will find information to help you learn. There will be questions, further reading and items to spark your interest. Please feel free to e-mail me with your responses and I will post what I can. Thanks for your involvement.
Bridgette Mongeon
---
First Paperboy, Sept. 4, 1833:
Newspaper Carrier Day on Sept. 4 marks the anniversary of the hiring of the first paperboy in the United States. In 1833, The New York Sun ran the following ad: "To the Unemployed – – A number of steady men can find employment by vending this paper. A liberal discount is allowed to those who buy to sell again." Ten-year-old Barney Flaherty, although not a man, was the first to answer the ad.
The small newsboy sculpture is available as a limited edition bronze.

Let's go to the next page in this chronological order of the creating of a Newsboy Sculpture- How I Pick A Pose.