Only The Artist Gets To Draw On A Bronze!
I was thrilled to be called into the foundry today to see the progress of Evelyn. She is well on her way to being complete for the Evelyn Rubenstein Jewish Community Center.  Unfortunately they are having a major event at the ERJCC so we will not be able to install her until the middle/end of August.

These are the things I look for when I go to the foundry for a metal check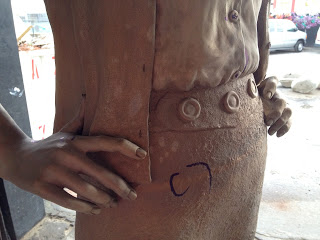 Does each piece look the way I sculpted it?

Are there any metal burrs that need to be removed?

Does the texture match my texture where it has been welded?

Do her hands look natural in their placement on her body. 

How do all appendages look?

Are there any holes or things that need to be fixed?



I walk around the sculpture and mark it with a marker. The foundry man will come back in and fix the things I request.  She is so close. Next post will be about the patination or the final color of Evelyn.