I am especially excited about the praying man project for Dallas Baptist University because, through the years my life has been full of prayer, and I have had a burden of intercessory prayer for others.  I think it is something I inherited from my mother, if you ascribe to the idea that you can inherit spiritual gifts. I do know there has been generations of faithful Christian women, and I'm immensely pleased to be a part of that inheritance.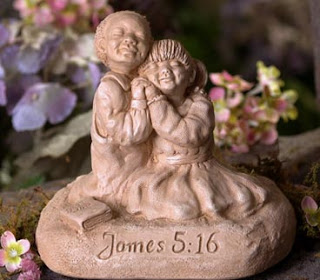 Over the years, many have said that my talent for sculpting is a "God given gift." That is a huge responsibility. I pray often for that gift and guidance.
Throughout my career, I have done several sculptures of people praying. Years ago I had a garden sculpture line and created two sculptures of children praying. One was of a little girl, and the other is this one of a little boy praying and peeking up at God
One of the first pieces in my God's Word Collectibles line was of two girls praying with the scripture James 5:15 "Pray One For Another." Each sculpture in the series comes with a letter from me saying why this scripture is important in my life.
Pray one for another…


Confess your faults one to another; 
and pray one for another; 
that ye may be healed. 
The effectual and fervent prayer 
of a righteous man availeth much. 
James 5:16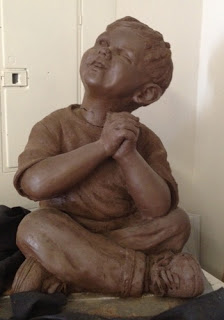 Continuing our work on the Praying Man for Dallas Baptist University. You can find their project blog on Blogspot.