The Art Car Parade Is Coming….
A true traveling exhibit-
The Houston, Texas Art Car Parade
By Bridgette Mongeon © 2008
For those of you who don't know about this crazy event, we have an art car parade, the largest anywhere. Here is an article that I wrote several years ago about the parade, along with some cool pictures. For more information go to http://www.orangeshow.org/art-car/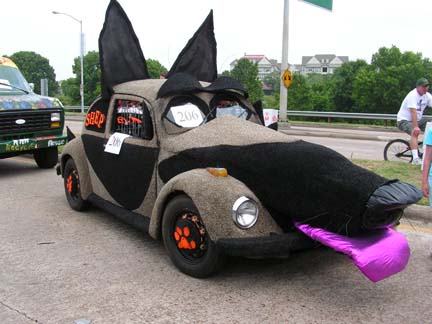 This past month marked a celebration of a true traveling exhibit. The 2008 Houston, Texas, Art Car Parade is one of the oldest and largest art car parades in the world. 200,000 plus spectators and media from all over the world saw this year's parade. The art car parade is part of The Orange Show's Center for Visionary Art and began in 1988 with just 40 vehicles. This year, its 21st anniversary, boasts 280 entrys from over 15 states.
I decided to take my studio apprentice Russo, an exchange student from Georgia (the country between Europe and Asia, not the state) to see this Houston wonder. Everyone should experience these American artistic autos at least once in their life. While on the way to the parade, we were followed by "Shep The Rescued German Shepherd" art car. Or should I say, "We were tailed." It was at that moment that Russo learned she was in for something quite unusual.
An early arrival to the parade allows for close inspection of each art car, along with some of the colorful characters that seem to accompany the cars and those that the parade draws out from the woodwork. Besides art cars, costumed roller skaters and art bikes are also welcome in the parade.
There is really no other experience like seeing the wild rides exhibited in the art car parade. Russo and I quickly found our favorite cars. On our list was the "Sashimi Tabernacle Choir" created by Richard Carter, John Schroeter and Team Sashimi. The creators of this car mounted singing fish novelties and wired them to the car to sing in unison. The car has over 250 computer-controlled lobsters, bass, trout, catfish, and sharks.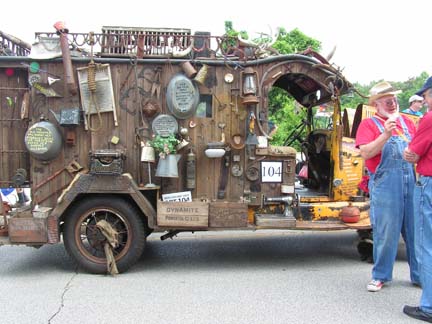 We were also quite fond of "Dekuntry Pedlur" by Rich and Pam Molden. The car made to look like an old fashion country peddler made me think of Ma and Pa Kettle or the Clampetts.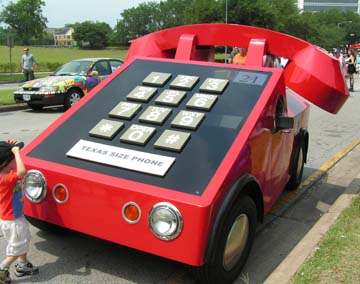 The "Phone Car" by Howard Davis was originally a 1975 Volkswagen Beetle and has a horn that rings like a telephone.
Amber Eagle was inspired by the patron saints of Mexico and created "Lady of Transportation" and won Mayor's Cup and Participant's Choice Awards in the parade.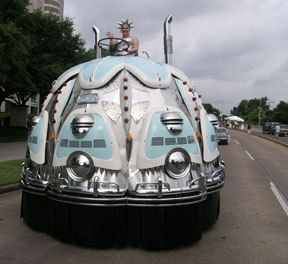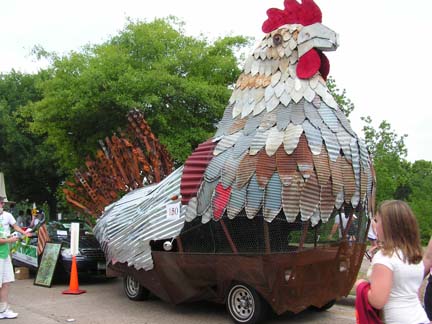 People's Choice went to a giant chicken car called "HEN-A-TRON II" by Pomponio Napumucino.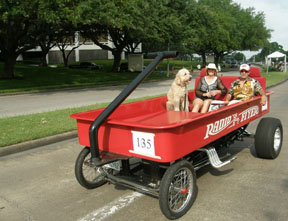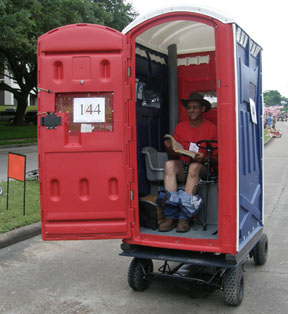 "Radio Flyer" by Bob Castaneda also caught our eye as well as the "Crapper Car" by Richard Simcik.
Woodworker Isaac Cohen created a work of art. His car "Splinter" is made of wood. According to the artists My Space Page, "I built Splinter as a birthday present to myself for my 50th birthday. It took 5,600 hours to complete. Splinter is built on an 89 Honda Accord frame. The body is 21 ft. long and crafted from 4,985 linear strips of ash and walnut."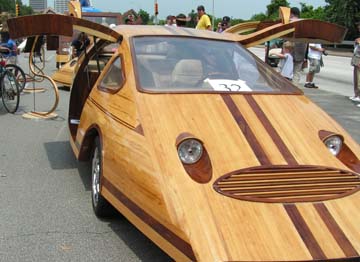 It is rumored that Houston Grand Opera's baritone Liam Bonner was the person singing in the mouth of the art car "Opera To Go" by Perryn Leech.
The parade is one of artistic wonderment, free expression, and a real head turner. Coming home I had the urge to glue, epoxy or create something for my own silver van. You could say it was an obsession that was driving me crazy.
"Keep America's roads weird, build an art car"

Quote by Tom Jones curator of The Art Car Museum died May 10, 2008 killed by a drunk driver.