Welcome to the blog of the process of creating this wonderful sculpture for Grambling State University. Bridgette Mongeon, is the sculptor of this life size bronze mascot. She does her best to keep everyone abreast of what is happening with the tiger. This blog is created so that everyone can follow along.
Many times Bridgette Mongeon up to my elbows in clay, which does not work very well with typing up blog posts, but we will try to keep the blog current.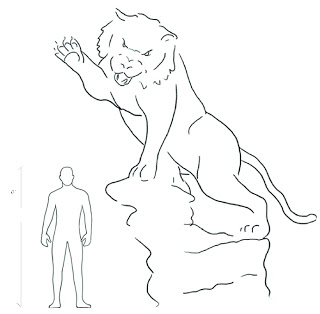 The Beginning-
Everything is all done in secret. A contact form comes into the Bridgette's inbox requesting information about a sculpture and she responds. Then there is a lot of red tap to go through, contracts etc. and always a very quick deadline.
"I'm thrilled to be working with Grambling on this project. I love to capture the spirit of an entire school in a sculpture. "
 GO BIG OR GO HOME!  Well not really, but that is what it appears. Bridgette presents several designs and sizes to Grambling State University. They decide they are going to have the largest size created for their campus.
From the Grambling State University project blog at Gramblingtiger.blogspot.com