When creating this sculpture there are several ways that I can create the guitar.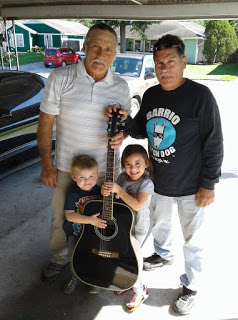 I could hand sculpt the guitar with clay over foam.
I could 3D scan Norma's guitar and have it reproduced in foam and clay
I could get a real guitar and modify it.
For the budgets sake we have decided to go with the last option.  So, it was put in the hands of the family to find a guitar.  Ernie, Norma's brother and bass guitar player for the family band found the perfect guitar to be a part of this sculpture.  
I'm glad that they were able to do this. I may have to actually anchor the guitar to the sculpture and I needed something that it was o.k. to destroy. Even so, I'm a guitar player and hurting this instrument in any way will cause the musical muse and the artistic muse great dissension. 
The project is moving along. I can't wait for our photo sitting tomorrow with Angie, Norma's daughter.  
This is the documentation of Sculptor Bridgette Mongeon who created the Norma Zenteno Sculpture and Kippy for Zenteno Spirit and Barrio Dogs. You can find the process blog for this project at http://normasculpture.blogspot.com/