The Speaking Engagement AAt ECVA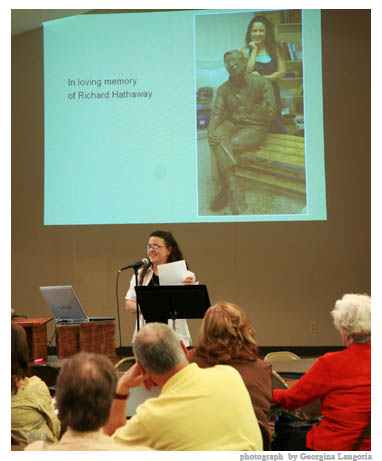 The Episcopal Church in Visual Art kick off event was wonderful! Even though I was a little hesitant about speaking. The rest of the speakers were either ministers, worked in a position of ministry in the dioceses or created liturgical art. I wasn't sure my work was "spiritual" enough to be included, My sculpting is realistic and people understand the concept but, sculpting the deceased is a bit strange, as is the book I am completing, "Bringing to Life the Spirit of the Deceased—A Sculptor's Journey" describes. When asked to talk about how my faith influences my artwork and my artwork influences my ministry my work is not as blatantly spiritual as liturgical art. Of course the God's Word Collectible sculpture series that I created and sell on the Internet is blatantly spiritual. But the interesting way God has healed and helped through the ministry of my sculpting the deceased might not be so apparent. Writing the book over the last two years has been a fascinating journey into the process of creating posthumous sculpture, an intimate look at myself as an artist and the spiritual gifts that allow me to do this work with such emotion and passion, as well as the healing that God initiates in my clients. I only wish I would have had more time to share my research behind the science of the emotion felt in the art and the science behind what some refer to as psychic, or my research on the scientific documented steps of the creative process and how it compares to what others describe when they have a spiritual experience, but there was only so much time to talk. I am sure those in the audience that listened to my topic would agree, the artwork is just as deep, meaningful and healing as the liturgical work. It was also good to be reassured that ECVA is for all artists and writers, not just those who create liturgical artwork! It comes down to the Great Creator. He has inspired us all.
Thanks to the members of ECVA-Texas for offering me the opportunity to share and for indulging me as they listened to my woes of finding publishers for my books. I was thrilled to be able to share the children's book that I recently wrote for my daughter who graduated from college this spring. It was inspired by, of course the Holy Spirit, but also Dr. Suess' book "Oh the places you'll go". My daughter was concerned that she might not pick the correct path and wanted to be in God's Will. I do hope that one day parents will be giving "God's Will and God's Way" to their children as they graduate from high school and college. I did fail to mention that I was reading it for the artists in the audience as well. As my lecture stated, growing up creative and trying to figure out how God wants you to utilize these gifts is not easy. Each of us wants to honor God with our gifts and sometimes you just don't know how to find God's will in your life.
I wish I could share the entire book, I cannot, but I would like to share these small excerpts.
There is really no map that defines all the places.
Keep God in your heart, you proceed in His graces.
Sometime it starts with just a small inkling
Of what you might like and what you are thinking.
Take one small step; find a place to advance,
Sometimes you just have to take a small chance.
Other times you'll think, "I'm proceeding to there."
Your goal will be firm and your destiny clear.
You'll think that you are headed from point A to point B
How surprised you will be when you end up at V.
And you'll say, "Why did I think B was for me?"
And you'll marvel at the way God took you to V.
Of course there is much more to the book that describes God's will in our life, but I would like to close with this other excerpt.
God's will and God's way, I'm sure you'll agree,
Will fill your heart up and set your soul free.
Acknowledge his presence in all that you do,
You will find where you walk, God walks that way too.
Excerpts from the children's book "God's Will and God's Way" © 2007 Bridgette Mongeon
(This book is unpublished, publishers inquiries welcome)
Please do not use without permission
Photographs by Georgina Langoria