Upside Down Trees And Dedication To Chairs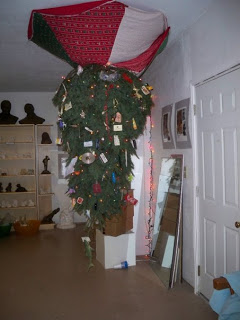 Upon my arrival back to Houston, I realize that the next few weeks, which also happen to be holidays, will be extremely busy. I warn my family that I might not be able to do much during the holidays.
We have already planned The Upside Down Christmas Party and Art Show. It is a tradition for the studio. We hang the tree from the ceiling, and it is decorated from anything on your person, in your car or found. The party is pretty much planned, and the visiting artist has their work hung.
The first part of the DBU job takes place in my computer and not in the studio. I'm up in the office on the computer gettings files ready. I know once the party is over we will have our physical materials to create this work of art.
The first job is to create a digital model of the sculpture so that I can have it enlarged quickly. My traditional vendor for this project is Synappsys Digital Services in Oklahoma, but on such a quick deadline, I decide to use a local vendor. Mental note: never use a new vendor on a tight deadline.
My job while working in the computer is to sculpt the folds so these will translate into the foam when it enlarged. This will save me lots of time when sculpting.
The chair is also recreated digitally. It was originally going to be milled in wood. I cannot even list the amount of problems we had in recreating this beloved chair during the holidays on such a tight deadline. I will end with saying it was with determination and an act of love that this chair came into being.