Don't Sleep In The Clothes in Which You Cook
I failed to mention the auction items from Pennsylvania and Ohio. Pennsylvania auction item is a small coffee cup. Ohio is a corkscrew from another winery, no we are not winos we just could not find anything at the last minute. I'll have to post pictures of the coffee cup later.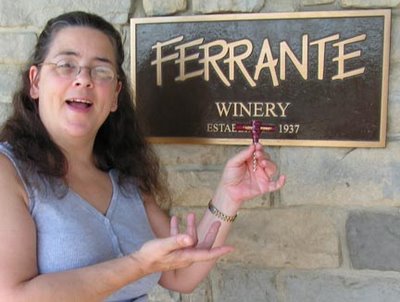 New York's auction is… I believe Jam, but I'll have to look and post that photograph later.
UPDATE
It took much longer to get to Vermont than we thought. we had estimated 7 hours but the ferry from NY to Vermont runs on the hour and we missed it. Then it took an hour on the ferry before arriving in Burlington and another 30 minutes to Montpelier. Dick at this moment is home in his green mountain state.
Prior to getting to Vermont we drove through the Adirondack mountains. I learned so much like, "never sleep in the clothes that you cook in." It is a black bear thing. Gloria and I tried to dump the trash from our cars but could not open the trash cans. It dawned on me that they are bear proof, apparently they are also Gloria and Bridgette Proof. If there was a hidden camera taking pictures I am sure the rangers would have a good laugh at the humans. Cell phones don't work in those mountains either. God forbid something should happen to the car, we have food for those black bears and it also occur ed to me that we could not get to the spare tire for the weight of Dick Hathaway. No more worries about that, we are here now!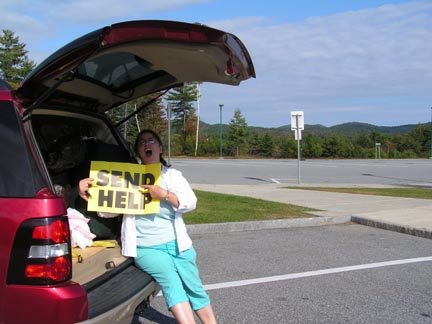 The "send help" poster was on the back of a map of the Adirondack mountains.
Tomorrow we install the sculpture. This is what I have worked so hard for the last two years. Can't wait.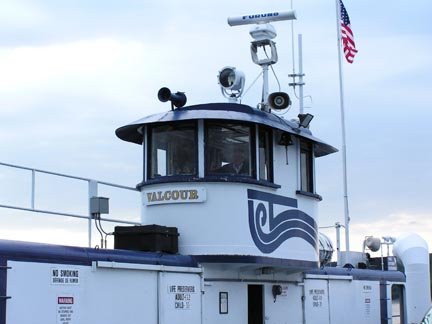 Leaves were beautiful in the Adirondack mountains. I think they will even be better by Friday when we leave. We got in so late that we had to stay at Betsy's B. and B.' s in Montpelier for the night.