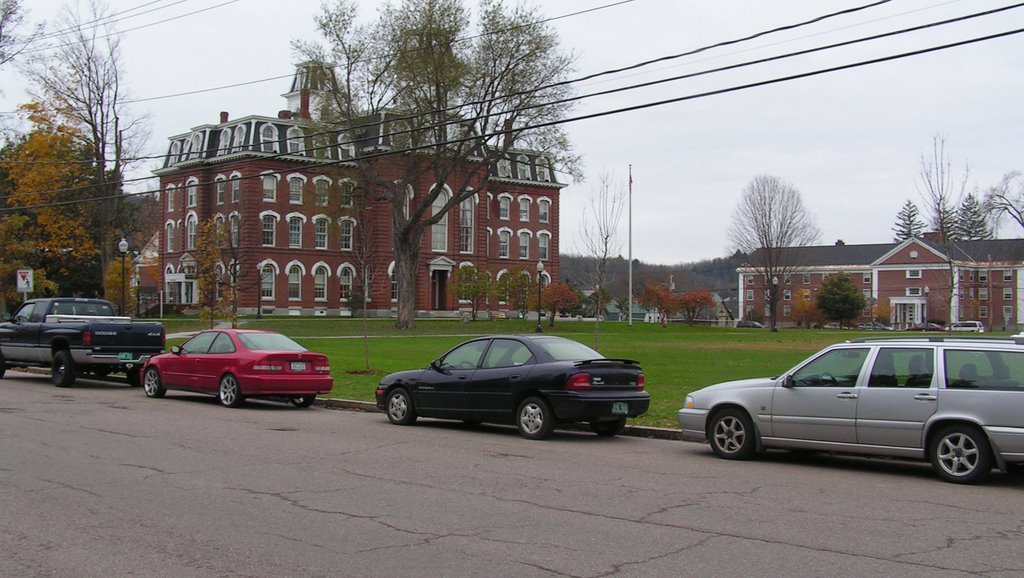 ( From the Dick Hathaway project blog.) I should probably start by introducing myself. My name is Bridgette Mongeon I am a sculptor and writer living in Houston, Texas and I am a student at Vermont College Union Institute in Vermont. ( Since the writing of this blog post Vermont College as it was known has been sold. I believe Goddard College has a similar program. ) I am presently in my culminating semester and will be graduating on November 1, 2006.
My study through my three semesters has been continuous; I am working on a book titled "Bringing to life the Spirit of the Deceased – A Sculptor's Journey".  I have been a sculptor for over twenty years and one of the things that I specialize in is posthumous sculpture.  After Dick Hathaway's passing at residency in October of 2005 I proposed to Vermont College to do a sculpture of Dick Hathaway.  At first it was going to be a bust, but I longed for a life size bronze to be placed on the green outside of the historical building of College Hall. I am donating my sculpting time, and because I often do part of the casting process including mold making and wax I can also donate that part of the foundry fees if necessary.  I am in need of further funding for casting and shipping the sculpture to Vermont. The details of the costs of creating this memorial are found on my website. You will also find information there, on how you can donate to the project and help to raise the minimum amount of $9,000 that is needed for casting Dick in Bronze. 
My heart's desire is to have this sculpture done and received by Vermont College by November 1, 2006, the date of my culmination. My culminating presentation will be on finding and capturing the spirit of Dick Hathaway in sculpture. Though it is a quick turn around for sculpting and casting a bronze, I do expect to meet the challenge and extend my personal invitation to each of you for the unveiling of the Dick Hathaway sculpture and my presentation
 Given that six months is a short amount of time for sculpting, casting and shipping a bronze, much depends upon my having the necessary funding to finish the job before that date.  If for some reason it is postponed, then Dick will have to sit in my studio until the rest of the money is raised.  I can think of worse things than having Dick Hathaway hanging around.
Those interested in viewing my work can see it on my web site at https://creativesculpture.com.

My most recent commissions was a life size newsboy commissioned by the Texas Press Association and intended for the state capitol in Austin. I have documented the process of sculpting the newsboy on my blog as well.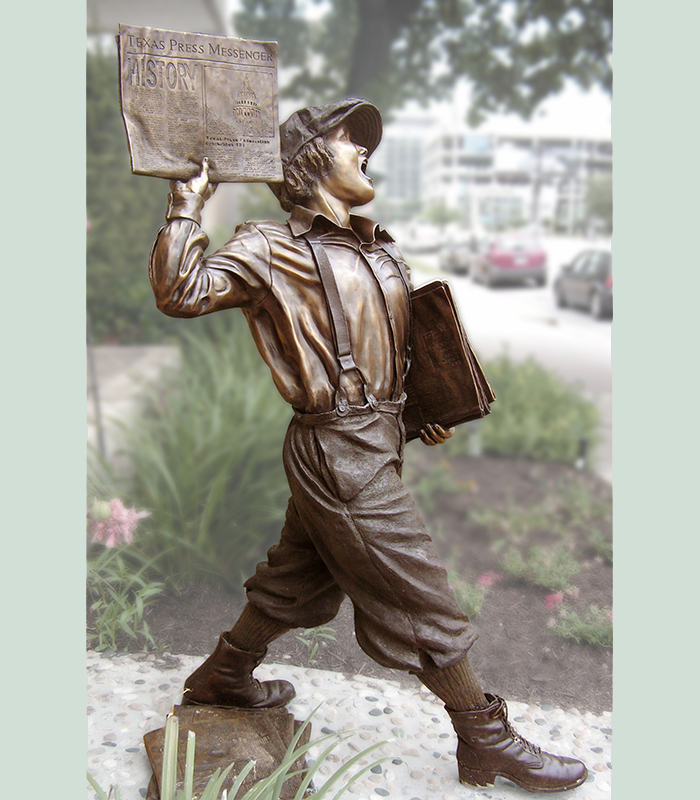 I have also just finished a life size bronze of Patsy-a posthumous commission of a 60-year-old sitting on a bench. In addition, I'm finishing up a life size bronze of Lucas-a five year old running, and life size bronze bust of Jeanine a twenty six year old, both of which are posthumous sculptures.
            The purpose of this blog is to share the adventure of the sculpting Dick Hathaway so that everyone can be a part of it.  I would love to hear your stories about Dick.  I am also very excited to hear the "Hathawayisms."  And please, if you have photographs of Dick they would be extremely helpful to the sculpture process.  You can mail your copies to my mailing address: Bridgette Mongeon, P.O. Box 10562, Houston, Texas 77206 or you can send them digitally through e-mail.
I also hope to raise awareness of the project through this blog to encourage the donation of funds. I have set up a separate account at Whitney Bank in Houston, Texas. Unfortunately, donations are not tax deductible. I am sorry that I could not get a not-for -profit organization involved so that the donations would be tax deductible. There was just not enough time.
            If you would like to view the financials and schedule for the project you can do so at on these blog pages.