Announcing- Panther Plaza – Prairie View A & M University; Prairie View, Texas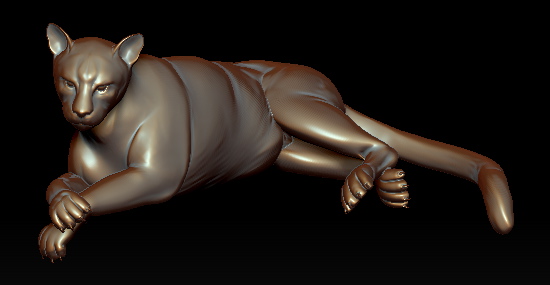 I have been awarded a new sculpture commission. I will be creating a  1 1/2 size bronze Panther for Prairie View A & M University in Prairie View, Texas.  A typical panther is 7 feet from nose to tail, so my sculpture will be 10 1/2 feet, depending on the design of the tail of course.
This project has a very tight deadline, and is due to be installed November 11th.  5 months to create designs, get approvals, create final maquette and then sculpt a large panther, as well as put it through the foundry process  is a very, very tight deadline. With our additional digital tools at B. Mongeon Sculpture Design Studios, and my incredible business partner, Mike de la Flor, we will be able to make the deadline.
I have been given permission by Prairie View A & M to document my process, which I will do on my blog.  We are also going to make an internet presence for the project so that students can watch the development of it.  This will most likely be on Facebook. The panther is for the new student life building. I am so proud to be a part of this project.
NOTE:
These are only sketches
The patination or color of the panther will be different on the bronze sculpture
I do not know the size or design of the base .It is being provided and the size and design will play an important part in the design process.
I'm also waiting to hear on how the sculpture is viewed.
I love the 3d models, we can easily make changes to show clients and seeing a sculpture from all sides is so much better than having a few hand drawn sketches.  Once an approval is obtained on a pose and direction, I will be sculpting this digitally in Mudbox or Zbrush for final approval.
More details on process in future posts.
Ah, I would love to know what pose you like. Feel free to weigh in on your opinions.
_________________________________________________
Bridgette Mongeon is a sculptor, writer, illustrator and educator as well as a public speaker.
Her blog can be found at https://creativesculpture.com.
She is also the owner and creator of the God's Word Collectible Sculpture series
Follow the artists on twitter twitter.com/Sculptorwriter twitter.com/creategodsword
Facebook http://www.facebook.com/bridgette.mongeon
Listen to The Creative Christian Podcast or the Inspiration/Generation Podcast Click on Podcast Host Bios for a list of all podcasts.
Listen to the Art and Technology Podcast