Class- Learn How To Sculpt A Likeness
A portrait sculpture class will be given by master sculptor Bridgette Mongeon in her Houston area Heights Studio. The process of sculpting a bust and the tools you will learn in this class can be translated to sculpting any of your loved ones. Our subject is a beautiful baby, an inspiring model for all and a creative inspiration for those who might have a hankering to sculpt dolls.DATE:The class will take place two Saturdays, June 18 and 25th from 9:00-3:00. Please bring a sack lunch. The cost of the class is 200.00 plus $25 material fee. Space is limited.(There is no need to bring materials, if you have sculpting tools especially calipers, it is suggested to bring them, but not necessary. Be sure all of your tools are clearly marked with your identification. Smocks are also encouraged. ) Bridgette measures B. B. King with calipers.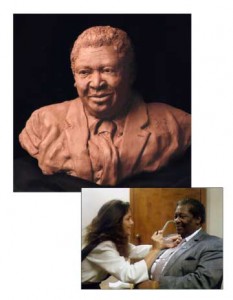 To register:Click the Pay Pal link below for your  Pay Pal payment or contact  Bridgette and she can send you an address to pay with a check.  Please register by Monday June 13th. If you need further information please call 713-699-1739. The artists work can be found at https://creativesculpture.com NOTE we are setting up a second class for those who cannot make the June date. the dates are tentatively August 6-13th. Please indicate which class you are taking.