Whether we are artists, musicians, actors, or small business owners, our creative and business journeys can, at times, feel lonely. Sometimes we are floundering and need direction. We wish we had someone who could walk the path with us, help us develop a strategy, stay focused and that could help us stay accountable to our dreams. If you yearn for a guide with experience and connections that can propel you into your dreams, you may find The Creative Endeavors Mentorship Program a good fit. It is true we can learn from our mistakes, but we also can learn from the mistakes of others.
The heart and time of caring professionals are restoring the lost art of mentorship.
Locating such guidance may feel like an impossible task. It is a great resource to find someone who is invested in our success. It makes us feel like we can conquer the world. Master Sculptor/Writer and businesswoman, Bridgette Mongeon created The Creative Endeavors Mentorship Program to support individuals with experiential learning, to incite questions, encourage debates, and challenge mentees while providing intellectual and emotional stimulation and accountability.
Bridgette created the Creative Endeavors Mentorship program from the self-directed study that she received in her progressive education which she obtained with her Master of Fine Arts in Interdisciplinary Arts at Goddard College in Vermont. It is great to have physical access to your mentee, but in the age of technology, mentees can live anywhere, and mentor and mentee communicate through the phone, skype, mail, and the internet. Many mentees feel like there is no extra work involved in a mentorship program. They are merely documenting and having accountability for their dreams and goals while being given guidance and suggestions from a professional in the field.
However, the mentorship program is serious business. Mentees enter into a three-month-long contract with the artist and are, required to do extra work. They must document their expected process by creating a Statement of Purpose for each three-month term. They are also responsible for sending monthly packets to their mentor to document their progress and work. The mentor intern replies to packet work. At the culmination of a term, they are reviewing their progress. Bridgette has found that the extra work of documentation is essential. "I do this without pay, and the time I'm spending mentoring is a time I could spend writing and sculpting. My time is precious. I need to know the other person is serious and disciplined enough to document their dreams and progress. Plus studies have shown that goals not written down are only wishes, writing down your expectations of yourself help you to meet those expectations."
Mentorships are different than internships. Bridgette uses interns in her studio quite often. Some Interns are paid others are not.  Interns work alongside the artist on her work. In a mentorship program Bridgette helps the mentee achieve their goals.
LIST OF ITEMS NEEDED IN THE PROCESS OF BECOMING A MENTEE
Application
Official letter of Acceptance
Schedule Received
Signing of Contract
Advisory Meeting
Statement of Purpose
Monthly Packets
APPLICATION
To apply for The Creative Endeavors Mentorship Program, Send the appropriate information listed below to the artist at Bridgette (the at sign) creativesculpture.com. Put Mentorship program in the subject line. Let her know you have read these guidelines and provide the information listed below.
Bridgette will be review new applicants
April- May 2018 for possible Summer mentorships and
September-October 2018 for 2019 mentorships.
To apply for The Creative Endeavors Mentorship Program please send Bridgette the information listed below. You can be as elaborate as you would like. A minimum of 500 words please, you may also put in images of your work on the document. Please describe the works, your process, medium what part you had in their creation. Did you design them, create them, cast them, etc.? All of this should be sent as a pdf to Bridgette Mongeon.
ABOUT THE MENTORSHIP
"Searching for a promising student or promising adults to mentor."
Bridgette Mongeon searches for promising individuals, working in the arts or business, to take under her wing and mentor. A mentorship program is a one on one program. Ms. Mongeon takes on no more than one or two mentees a year. She is looking for individuals who live, breath, and think creatively, who desire growth, and that might like to be a part of a "term'" experience with a professional, established artist/writer and businesswoman.
Ages considered – high school, junior high, and university level, and adults are welcome, though maturity and commitment from younger mentees is essential. Professionals and beginners are welcome to apply.
Qualifications and requirements
A person that exhibits a passion for the arts or business, and is committed, dedicated, and reliable makes for a good candidate. You must be dedicated to the time and to the term. The hours you put into this will reflect in your progress. Bridgette will happily work around mentees schedule. However, if you don't complete the other documents needed to continue with the mentorship, such as Statement of Purpose and Packets in the time designated, you will receive a letter stating that your mentorship is in jeopardy. Further delay on your part, without explanation, will indicate that you are not ready for this journey. Your current mentorship will be suspended, and your place will be given to another candidate. You may reapply at a later date for consideration or move to a paying consultation basis. However, the same commitments will apply.
A Written Application is a Requirement.
Please include the following in your written application.
Why is this art form or business important in your life?
Give a brief description of your interests and direction.
Describe your present study.
What do you hope to gain from this relationship?
What do you hope to accomplish?
Is there a specific goal you have in mind? What does that look like fulfilled?
Where are you lacking? What areas do you feel you need help?
Please share a bit of depth into who you are and a few samples of your work. Be sure to describe the work and your part in the work.
What have you done thus far to try and reach your goals?
You can also include personal things if you like, what makes you tick? What makes your soul sing?
When would you like your mentorship to begin? Please note that Bridgette does this without pay, but is committed to your success. She can try to honor your start time, however, if another mentee is taken on before you are officially accepted then you may lose your slot until another time becomes available. You will then need to reapply.
Public or private?
See the section below, and in your application, please state how you would prefer to work your mentorship and how public you would like to be in the working arrangement. In your application, please include a Public Statement of one or two sentences about your feelings of this award, and one or two sentences describing yourself (Think Press Release. It needs to be written in the first person. You might look at this page to help you formulate your public statement. ) This will be used to formulate the announcement and possibly be used in future media about the mentorship.
Please also include all of your contact information: Name, address, email, phone, and all social media outlets such as Instagram, twitter, blogs, etc.
If you are under 18 you must have parent's permission. Acceptance for students under 18 will also be discussed with parents. All younger applicants should think very hard about their school workload and social commitments before applying.
YOUR ACCEPTANCE AND CONTRACT
You have been invited, but you have not formally been accepted. Bridgette will send your acceptance letter to you after she receives your application. Along with the acceptance letter, please note that there will be a contract that needs to be signed. It is a formal part of the process. You will sign an agreement that you understand the duties and responsibilities. It also will state that you have received much of the Acceptance Packet. This agreement is important. It assures accountability on both parts.
WHAT A MENTORSHIP PROGRAM ENTAILS
Through this mentorship program, you agree to focus on your determined goals and have regular communication with Bridgette Mongeon. All correspondence between you and your mentor will be through a shared Google Doc Folder. Once a date of your acceptance is received, a schedule will be put in your mentee folder. Please look at these dates carefully. They are a bit flexible, but should be used as a very important guideline. If changes need to be made upon first viewing, then this will be done in the Advisory Meeting. Of course, life happens, and in light of that, flexibility is important. This can easily be done with communication. Besides not doing the work, a lack of communication is the biggest thing that can jeopardize your mentorship.
Time Commitment
For most mentees, they do not find that working a mentorship program takes any additional time as they are already pursuing their heart's desire. The mentorship program gives them an opportunity to document this, gives them direction and accountability to themselves and their mentor. However, one needs to designate and carefully schedule an appropriate amount of time in their personal schedule to finish monthly packets and other paperwork so that the mentorship can continue. The amount of time this takes depends on how easy it is for you to write. Some find keeping a working journal will help them to easily do packet work.
Advisory Meeting- Usually, there is one advisory meeting every three months. If you have received an offer for an extension of a mentorship and your mentorship is going to be officially extended for another three months, then mentor and mentee regroup after the three-month date. A request to continue should be in your last packet. There is an exit meeting with your mentor in which you will discuss what has been learned, and talk about three-month term. If a mentorship is extended The same paper work of Schedule, Statement of Purpose, Packets, etc. are required during each Term.
A Statement of Purpose
After being accepted, it is now time to set out your goals for your first three months. What is your primary focus for these next three months? Much of this may be culled from your advisory meeting and your application. You may have more than one direction, and that is certainly fine. Just list them and what you hope to accomplish, as well as how you plan on accomplishing this. This program is about accountability- accountability to yourself and your mentor. You can't be accountable if you are not sure what you want to do.
In this Statement of Purpose think of your next three months. Please list what resources do you hope to investigate, books, groups, etc. Are you hoping to get in a show? Exploring a new medium? Investigating a business situation? Are there areas that you feel you need help? How will you find this help? This statement of purpose really is your guide to what activities you plan on doing to assist you in the next three months. Don't worry, new opportunities come up as you progress through this mentorship. This is expected. You may, at times, have to deviate from the statement of purpose to focus on immediate opportunities. As long as they are inline with your direction, this is fine. Please document how they relate, and the new direction in your monthly packets
Once this Statement of Purpose is complete, let Bridgette know through a text or PM on Facebook. She will respond to this Statement of Purpose and add things that she thinks might be helpful or useful to you.
Monthly Packets
Monthly "packets" are required. A schedule of the due date of packets will be included upon acceptance. This mentorship program is based on the Interdisciplinary self-guided studies found in the progressive education of Goddard College. Here is a good description of their packets. Though it focuses on writing it may help you to understand the process. You might also float through http://perpetuallearner.blogspot.com/ This is a blog that Bridgette kept through her journey at Goddard and Vermont College. She has some of my own packet work there as well as some from other students. In the below description taken from Goddard College, and advisor has been changed to Mentor. If you are looking for a self guided study for credit. Bridgette highly recommends the programs at Goddard College.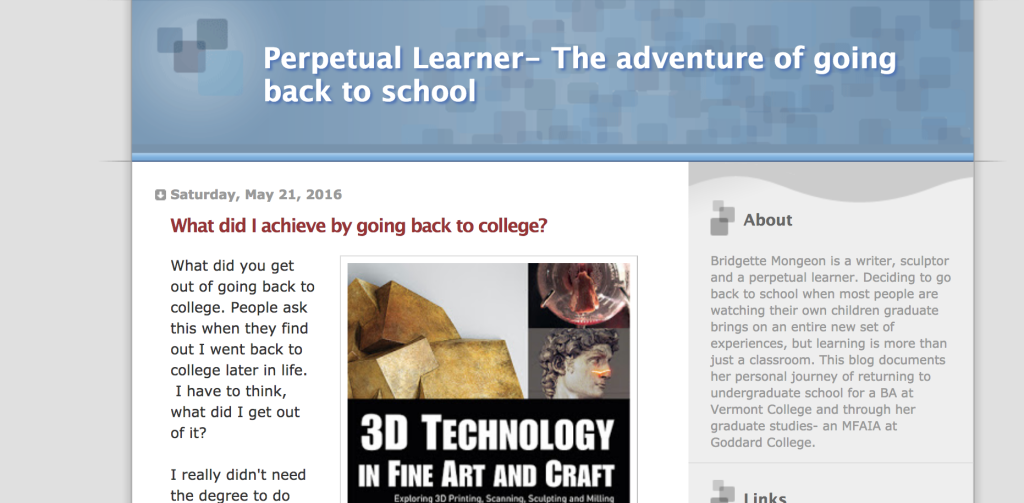 "Packet exchanges" allow you to sustain an ongoing dialogue with your mentor about your work throughout the term. You submit one packet a month to your mentor, on specific due dates, and your mentor responds in writing."
" A typical packet might include the submission of a new chapter of your novel, a revision of a short story, new and revised poems, scenes from your script, as well as critical work examining the books you've read. Packets also include a process letter in which you raise any artistic concerns or questions about your work and life as an artist.
Your mentor not only reads your creative work and makes detailed margin notes but also writes a lengthy response letter. Your advisor may offer support, highlight a particularly successful passage, challenge your arguments, suggest places to trim, and propose strategies to develop your work. Additionally, your advisor will engage you in a dialogue about how your craft-based exploration can assist you in bringing your work closer to your vision.
In other words, a mentor won't dispense one-size-fits-all advice that you could get from a book. Instead, they are focused on helping you realize your unique creative vision."
In addition to the original packet, your last packet in your agreed upon term will include a summary of the previous three months and a request to continue in the mentorship program. If accepted then you will proceed to another Statement of Purpose for the next three months.
PUBLIC OR PRIVATE
This mentorship is a private. Bridgette does request an exit statement from you at the end of the mentorship. This statement will be made public to encourage future interns. The announcement of your award of this internship will be made public on social media. Should you desire to keep this arrangement discreet, this can be taken into consideration, and should be made known in your application. All of the work done in this mentorship will be done privately in Google Docs. Please do not share you google doc link with anyone without permission. Should you choose, and it is highly recommended, you can make your mentorship public in a variety of ways such as sharing your acceptance, progress, and accomplishments in blogs, Twitter, Instagram and other social media. If you do, please share this with your mentor as they will be able to extend the social media reach and reshare. In doing this, your network grows. Some individuals find that documenting their process of public mentorship online helps to keep them accountable and gives them an opportunity for exposure. This may even be your packet work, though you should copy this work to you google drive packet work and give links to your blog. Simple and free blogs can easily be set up through http://www.blogspot.com . If you make this mentorship a part of your personal online blog as a part of your website, just include this information in your packets. You may do public documenting alone or encourage your mentor to participate publicly through a joint blog. Though the mentor will still create a private response to your online doc. Those working and striving to become professional artists also can leverage their online presence by being in association with Bridgette Mongeon through public documentation of this program and their progress. First and foremost— this is your experience, and you should choose what will make you most comfortable and promote your inspiration and motivation. You may change your decision on private or public from term to term.
If you find after reading this lengthy blog post that a Creative Endeavors Mentorship Program is just the thing that you have been looking for you can certainly begin your process by preparing your application and then submitting it at the appropriate time. Bridgette is honored to work with such dedicated individuals and will delight in the achievements and success of each of those she has the privilege to mentor.