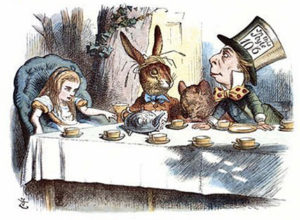 Mad Hatter Tea Party Sculpture
#MoveOnePlaceOn
www.alicesculpture.com facebook.com/Findingalicesculpture
WEIGHT: The sculpture weighs approximately 6,000 lbs.
SCULPTOR: Bridgette Mongeon lives in Houston Tx. Her studio is near the Heights.

TITLE: MOVE ONE PLACE ON Move One Place On is what the Hatter says in chapter seven. The artist encourages visitors, when the table is full with guests, to stand up and shout "I want a clean cup, Move One Place On," and everyone will change places. It's a good way to get into Alice's seat.

HIDDEN OBJECTS: There are 150 hidden objects in the scene. Be sure to look behind the book pedestal and under the table. There are 60 things under the dining table alone. The 150 are hidden in honor of the 150th anniversary of the story of Alice In Wonderland. There is no master list of the 150. This is on purpose. The artist wants you to "be curious", and read the stories by Lewis Carroll. She hopes to promote literacy and encourage exploration. What can you find? She will begin to reveal the 150 hidden things in rhyme and riddle from her social network. Bridgette Mongeon on Instagram, Sculptorwriter on Twitter. You can find all social media links at www.alicesculpture.com The artists is now making collectibles of some of the hidden 150. These are for sale.

DETECTIVE BOOKS:Families can download a free printable detective book so they can follow along with the artist and record their findings. For each item, you must know: 1. What is it? 2. Where is it in the sculpture? 3. Where is it in the story? 4. What significance is it to the author, original illustrator or the sculptor?
MATERIAL: The sculpture is bronze, made in the lost wax method of bronze casting. Bridgette's book 3D Technology In Fine Art and Craft: Exploring 3D Printing, Scanning, Sculpting, and Milling describes this process, and is available on Amazon as well as at this event.
HOW WAS IT CREATED? The artist based the work off of the original Lewis Carroll stories and John Tenniel illustrations. She uses both traditional sculpting and digital technology. She demonstrates some of the process in her book. Alice and her friends got big and small not with elixirs and mushrooms, but in Bridgette's studio they did this with digital technology. Video and process writings can be found at alicesculpture.com and FindingAliceSculpture on Facebook. The artists will add educational material focusing on literature and (STEAM) Science, Technology Engineering Art and Math, for parents, schools an libraries.
DID YOU KNOW?  It does not matter where you sit at the table, a character will interact with you. This was done on purpose. The scene is not complete until the table is full.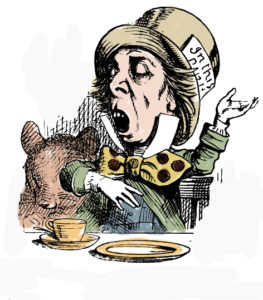 IS THIS A ONE OF A KIND? Yes, it is a one of a kind, permanent installation, however the artists will be making a table top bronze versions. These will be available for purchase. Inquire at www.alicesculpture.com
WHO COMMISSIONED THIS? The Rubenstein purchased this land that was once Teas Nursery and gave it to the city of Bellaire. They reserved a portion of it for a memorial garden to honor their mother, Evelyn. Alice and her friends are placed in Evelyn's Memorial Garden.
WHO CAME UP WITH THE IDEA? The artist began to create several design ideas when she heard a sculpture might be needed for the park. The client originally wanted Evelyn in the park. Bridgette was already working on a sculpture of Evelyn for the Evelyn Rubenstein Jewish Community Center. The landscape designers suggested the Rubensteins see the Alice In Wonderland sculpture in Central Park and they brought pictures back to show Bridgette. When she discovered the Alice In Wonderland was in the public domain, she put together sketches and presented them to the family.
HOW LONG DID IT TAKE? ´ It took nearly six years to complete, but the first three years Bridgette worked while she waited for the client to commit. ´ The contract with the park was signed in 2015 just a week after the 150 anniversary of the story of Alice in Wonderland. ´ Bridgette completed the sculpture in stages and sent it to the foundry for casting in bronze. The last of the molds left her studio in November 2016. What you see in the park, the artist and her interns sculpted feverishly for a year and a half to create. ´ The sculpture was originally being cast at Shidoni Foundry in NM but was moved in April 2017 to Deep in The Heart Art Foundry (DITH) in Bastrop, TX. ´ DITH delivered the sculpture on a flatbed truck uncovered. It came down I-10 during rush hour traffic, April 9th, 2018.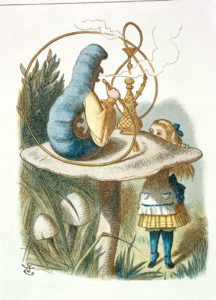 DID THE ARTIST HAVE HELP? Bridgette uses interns in her studio all of the time. They work in various capacities, and most are paid. There were many people who had a hand in helping with this project from artists, models for reference, armature builders, 3D scanners, photographers, mold makers, and more. Some stayed for the entire project, some only came for a day. The www.alicesculpture web site will have information on some who participated. Assistant-Caroline May, Lead Intern-Allison Gonzalez. Others- Riane Belgau, Austin Bernard, Becky Burkett, Paóla Isabel Chavez, Mark Eberly, Kate Furgason, Ainsley Furgason, Johannes Huber, Jeremy Jap, Gabby Martinez, David Morris, Vicki Parker, Johnny Rojas, George Russell, Shirley Scarpetta, Jacob Simms, Bill, Christina and Issa Sizemore, Kaijah Ward, Catrina Williams. Thank you all.
ANOTHER WONDERLAND CHARACTER? Some neighbors have expressed an interest in having one more sculpture placed on the Bellaire median or a neighboring yard. The sculpture would be of a large White Rabbit with his watch, running down Bellaire. You can imagine him shouting, "I'M LATE," as he points in this directions and runs to this marvelous tea party. Anyone know someone interested in backing such a project?
COMPANIES TO THANK: Thanks to the Interactive Copier for 3D printing buttons and Bridgette's mom's antique teacups for the table. Thank you to Party Boyfor providing costumes for the Mad hatter to use as a reference, Nicholas Bocci and Smart Geometrics for 3D scanning, and Dunagroup for donating foam for the table and pedestal. Synappsys Digital Services and Across the Board created the computer numerically controlled milling of the figures. Carvewright created the CNC of the Mad Hatter's chair.