Sculpture- Move One Place On – Alice in Wonderland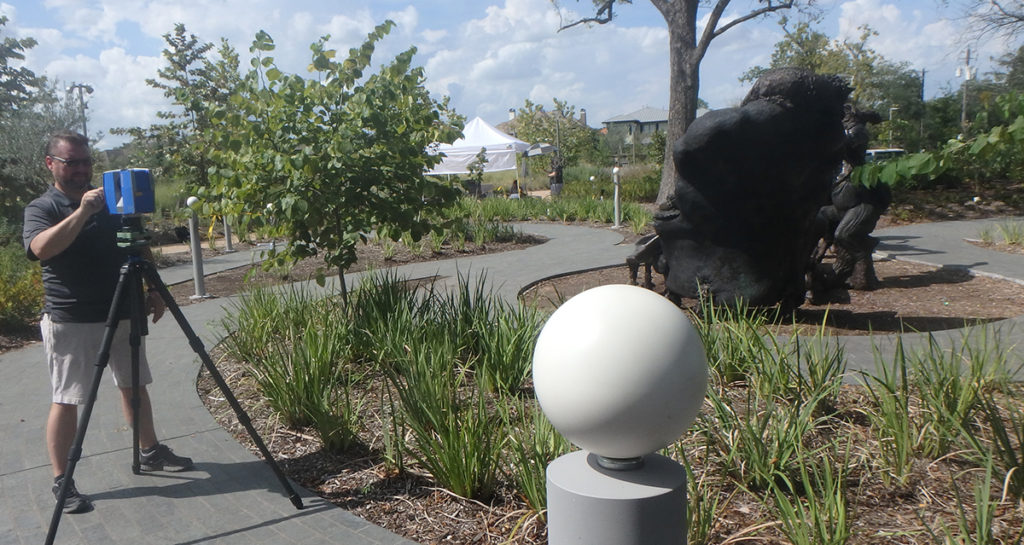 On a sultry day in September Bridgette Mongeon started 3D scanning her sculpture of Alice in Wonderland's Mad Hatter Tea Party titled "Move One Place On." As you will see by the previous press release, she and her team used several different types of equipment and scanning processes.
Intertek Surveying Services under the direction of Chad Rabitoy and a few different helpers jumped down the rabbit hole to Wonderland to help with this next curious adventure in Evelyn's Park.
WHY 3D SCAN?
Mongeon created these scans for several reasons .
Digital Preservation—One reason is for digital preservation. She can save the data. If anything should happen to the art, there will be data that can be used to repair the piece. Digital preservation of cultural heritage is not new. Organizations such as Cyark have been scanning many places around the world for years.Mongeon talks about the importance of this in her book 3D Technology in Fine Art and Craft: Exploring 3D Printing, Scanning, Sculpting, and Milling.
Online Educational Experience and Virtual Tour—These scans can also be used together to create an online educational experience for people all over the world. Mongeon is looking for volunteer coders and gamers to assist in helping her push the technology further and she is looking forward to the collaboration experience between others. When writing about this technology in her book she would often say "You don't know what you can do, until you know what you can do." That is why she is excited about these collaborations. "Others know best about how we can push these tools to create an incredible adventure using their skills in technology and education. I can't wait to find these people and see the magic happen. I have no idea where they will come from, but I'm like the white queen, 'I believe as many as six impossible things before breakfast.'"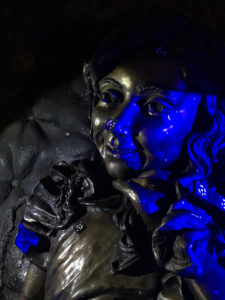 The scene of "Move One Place On" lends itself to education in literature, math, technology, history, art, and engineering. "When I look at the possibilities I see a chance to reveal some of the 150 hidden things, as well as to give virtual visitors the opportunity to learn more. For example, they might click on the Mad Hatter's hat and learn that hatters did go mad because of the mercury used in felting. Or if they hover over or click on the Mad Hatter's teapot in the scene, it might reveal that Mongeon used the famous Newell teapot as an homage to the man who started 3D," states Mongeon.
In Mongeon's studio Alice and her friends don't get big and small with mushrooms and elixirs, they so with digital technology.
Alice Shrinks- Little Replicas as limited editions.—
Mongeon will also take this digital data and modify it, and reduce it down for reproduction. The exact monumental scene will be shrunk like Alice in the story, and 3D printed as a small scene available to purchase as a limited edition bronze.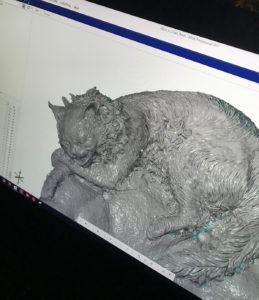 SCANNING THE ENTIRE SCENE
It was a scorching Texas day when they cleaned the sculpture and started scanning at about 1:30. The sculpture is very hot in the Texas sun. Rabitroy set up some registration balls around the scene. He used the Faro Focus
hardware / Faro Scene Software for laser scan andNCTech iSTAR 360 Camera and Kolor Panotour Pro software to scan the entire scene.Sculptor Bridgette Mongeon captured Rabitoy in his definition of this process in this facebook video.
INDIVIDUAL PIECES WITH FINE DETAIL
They used different scanners and equipment as mentioned above. Blue Light scanning must be done in the dark. Rabitoy used the GOM Tritop photogrammetry and ATOS / GOM Triple Scan III scanners using structured blue light scanning technology to capture the fine detail of each character. They had to do the blue light scanning in the dark, so it was a very long night. The team started by putting registration marks that consisted of small round stickers on Alice approximately every six inches apart. Four people worked for about an hour to accomplish this task. Then the blue light scanning began. Each scan covered about a two-foot radius. There were hundreds of scans each overlapping the other. And each area had to be scanned from multiple directions to get all of the many undercuts. Often Mongeon would stand over Rabitory's soldier and state, "Good, it got another one of the 150 hidden objects in the scene." Rabitory would turn the scan searching for the hidden object.
The entire scan of Alice took 9 1/2 hours. There is still much more to scan. Tthey will come back to do the other characters until the project is complete.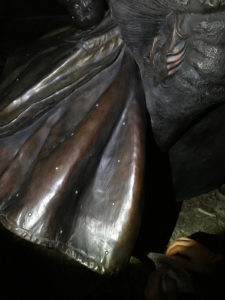 _____
If you are interested in jumping down the rabbit hole to create these free educational resources or for more information on purchasing the collectible 150 or the small bronze Mad Hatter scene contact the artist at www.creativesculpture.com
Follow the artist on Instagram: https://www.instagram.com/bridgettemongeon/
Twitter:
https://creativesculpture.com
You tube https://www.youtube.com/alicesculpture
For more information on this press release contact Jessica Brown Bridgette@creativesculpture.com
For more high resolution media images visit this google doc. You are also welcome to use the images on this page with credit.