It Is Actually May 3rd- A Schedule And A Pose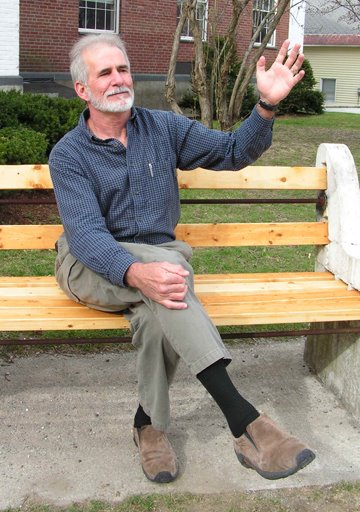 It is actually May 3rd and I have just set up my schedule for the Dick Hathaway project.
Sculpting- May-July
Foundry mold-August 2, 2006
* $4,000 needed as deposit
Foundry cast- August 30, 2006
Sculpture ships from Houston- October 11, 2006
*Balance of donations needed
Sculpture arrives at Montpelier- October 25, 2006
Unveiling of sculpture- Saturday, October 28, 2006
"This is insane", I think. A real test of my abilities to get this thing sculpted in such a short amount of time. If only I had all of my reference material in advance. I hope that won't keep me from proceeding. I have all sorts of doubts, "Will the money come through in time?" Just think about my job now, the next thing I can do, putting one foot in front of the other. It is something that many of my clients do as they are trying to get through life after the death of a loved one. I proclaim, it's for Dick, it's for Charlotte. That gives me the incentive to keep going.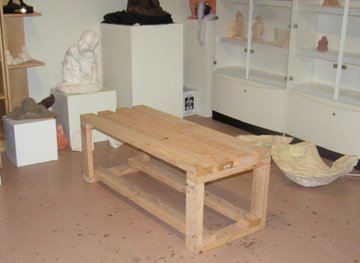 I had my apprentice put together a fake bench. I'll create the sculpture of Dick on this bench.   While at residency at Vermont College in spring of 2006. I borrowed the measuring tape from the maintenance crew and took measurements of the bench. 
I also had one of my fellow students, James, pose on the bench in a similar pose to what I had hoped the sculpture would be in. Of course James never knew Dick Hathaway, and he could not sense his stature or the way he held his body.  I hope that I can bring the pose of Dick in by using the photographs that are provided and a with a little of the artist's intuition that I have written so much about 
I'm excited about this make-shift bench, it is the beginning.