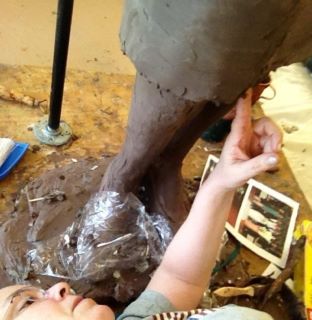 So, you could say I have spent the last two days on the floor of the studio. How else are you going to sculpt ankles and legs? Pillows are thrown about as I try to crawl around and sculpt, then stand up and go to the other side of the room to look, and then back down on the ground.
You can follow along with this entire process of creating a life size bronze for the ERJCC on the Evelyn Rubenstein project blog located at http://erjcc.blogspot.com/
---
Bridgette Mongeon is a sculptor, writer, illustrator and educator as well as a public speaker.
Her blog can be found at https://creativesculpture.com.
She is also the owner and creator of the God's Word Collectible Sculpture series
Follow the artists on twitter twitter.com/Sculptorwriter twitter.com/creategodsword
Facebook http://www.facebook.com/bridgette.mongeon
Listen to The Creative Christian Podcast or the Inspiration/Generation PodcastClick on Podcast Host Bios for a list of all podcasts.
Listen to the Art and Technology Podcast