Making Room For Dick Hathaway-Lucas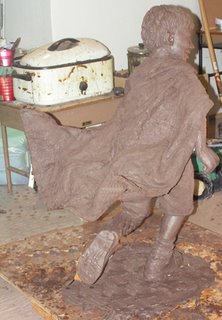 With a sculpture of anyone I depend on the photographs that are provided by the clients. When a child is grown and the photographs that are provided are years apart, it makes little difference, but when you have a little boy of 5 and the photographic reference you have is of him at 3, and 4 years of age, it is very difficult. The change in Lucas in each photograph was drastic.

When I was finished with the sculpture of Lucas It was great to have him running around the studio. The one thing that I learned from this sculpture is that the point in the creative process where I feel comfortable that I have captured Lucas it is different from the families. Apparently, this knowing or feeling like I have him and peace with the sculpture is not about me capturing a likeness, because elements of the face changed. But the peace between the Lucas sculpture and myself came before the approval. It makes it feel like that essence is a bit more mystical.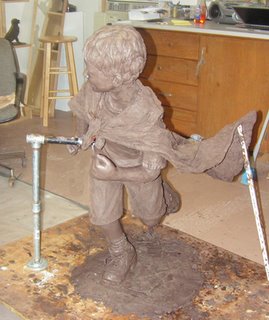 Lucas loved to play with towels and sheets tied around his neck. I believed he liked batman. So I created him in perpetual motion. It reminds me of when we were kids in the 60's and my brother and I would run around the living room singing that melody in the beginning of the batman series, "na na na na na na na na BATMAN!" Running around pretending to do the BAHM! WAMB! thing to each other. I had forgotten about all of that until just his moment. Thanks Lucas.
Here are some pictures of Lucas