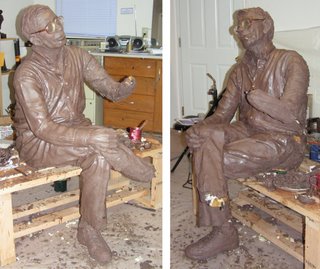 Jennifer is gone but, before she left she and I were able to make our way ½ way around Dick- his right hand and foot, right arm and leg. I'm taking a break from the sculpting to spend my days writing my black book for school- writing and sculpting. I have had this little dance my entire life. When I am sculpting I think of things I want to write and when writing I wish I were back sculpting. The push pull is not as bad as it used to be when I was younger. Now I enjoy the time doing each, and know the other ferments inside of me. It builds my passion to write or to sculpt.
This writing does give me less time to think on Dick and on Charlotte. I feel myself emotionally and physically distancing myself from them when I am upstairs in the office writing instead of down in the studio.
I have interviewed a new apprentice. We will see how that works out.