Moving Around Dick Hathaway
The shirt on the side and part of back, as well as part of the pants on the right side of Dick have been roughed in and are ready for Jennifer to smooth out. The legs are far from being done.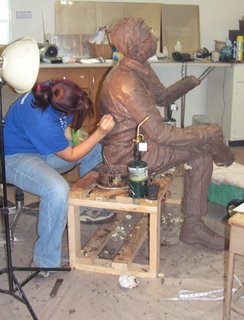 I have added the roughed in right hand to see how the entire side works together. I am debating about making the right hand a bit higher and need to decide this, but major reconstruction and cutting of the underlying metal will have to be done to accommodate this. I have put the roughed in shoe under Dick. When the shoe is not there a coffee can supports the weight of Dick Hathaway. I can't wait to get going on this lower leg. Now, with the shoe in place, I'll be thinking about the entire area, shoe, pants, leg and right arm/hand. Everything is worked on while I look at my reference photographs of my fellow classmate that posed for me. YOU NEVER HAVE ENOUGH REFERENCE! Plus some of the pictures of the classmate pose has small changes that probably only I notice. And the left arm is not in the position that I would like so I have to be very creative with the other arm and hand. Presently no work has been done on the left arm and hand.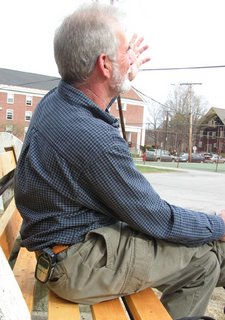 Jennifer groaned a little as she began to smooth out Dick. She is off on Tuesday so I am anxious to see how far she will get with smoothing out Dick through the week before her last day on Friday. Jennifer's internship is a nonpaid internship and this has helped me tremendously in being able to donate my $16,000 to this project.