I wanted to take a moment and introduce you to my apprentices.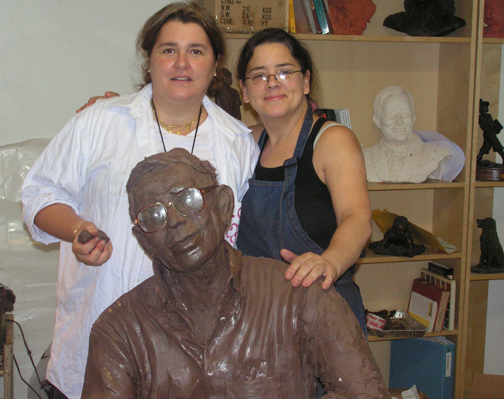 Jennifer worked in the studio through the summer. She was an incredible worker and on the ball. So dependable! Unfortunately she was a high school student and her job is now to study and get ready for graduation. Jennifer helped me with the beginning of a life size sculpture and making the mold of Lucas.
Florencia is Jennifer's replacement. An aspiring artist and mom she enjoys getting away from the house and getting her hands in clay. She is a great worker. Florencia is learning to work on the waxes, work on a life size sculpture and help me with other things.
Miguel is a constant in the studio, helping with waxes and mold making.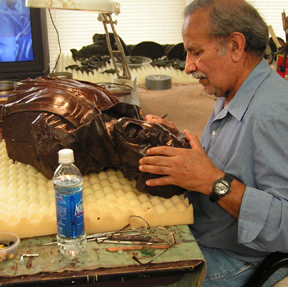 The job of an apprentice… prepare armatures, put clay on armatures, help keep the studio clean, help make molds, clean waxes, and lots of the time they pick up after me. I work late into the evening. My intimate alone time with my subject. I scrape on the large pieces and add to the sculpture. When I am done the apprentice comes in and cleans up all of my mess from the previous nights scraping and helps to smooth out the clay. Smoothing the wax base clay is a physical undertaking. Without the help of these people my arms and hands would not be able to withstand everything I put them through. It probably does not help that in my off time from the studio I do carpentry work and work in the garden. I guess the apprentices help to give my hands some rest.
It is a great opportunity to work with an artist in the studio. I wish I would have had it when I was younger.
Much thanks to the people behind the artist.